TKIL0101UML1200NSTDS
MARU LED LIGHT 1200
Producto fuera de stock. Consultar en los próximos: días de entrega
Data sheet
LIGHTING

PRIMARY

FEATURES

RECHARGEABLE BATTERIES

FEATURES

STROBE LIGHT

FEATURES

POWER SWITCH

LUMENS

From 1000 to 1500

FATHER´S DAY

LIGHTING

TDS

MISCELANEOUS

GIFTS

100-200 €

CHECK YOUR LUGGAGE

LIGHTING
Description:

The Maru is a high powered (new version with 1200 lm) LED flashlight that packs a real punch for its size. The Maru has a 10º angled beam and is powered by an 18650 Lithium battery.

One of this flashlight's star features is its battery charge indicator located in an easy to see position right on the power switch located directly on the barrel.

Features:


White light has six modes: High Lighting (100%) , Medium Lighting(50%) , Low Lighting (25%), Strobe Flash(fre:1HZ), explosion Flash(fre:8HZ),SOS
Temperature detection and protection function.
Battery power detection: When the power of Lithium is lower than the set value, the control circuit sets the LED Brightness down to 10% Lighting Mode automatically.
Points level 4 electricity display:blue (high),Green (medium), red (low), red flash (low electrical protection)

Technical Specs:


Power: 10 W
Brigtness: 1200 lm/li>
Angle: 10 degrees
Distance: 100 m
Work Time: 90 min
Battery: Lithium 1 x 18650
Depth Range: 100 m
Sizes: D: 36.2 mm / L: 146.5 mm
PRODUCT ACCESSORIES

Latest posts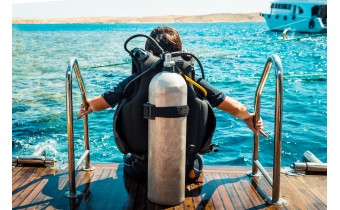 Discovering the treasures that the underwater depth hides and being able to observe...
Read More
View Blog