TKIL0101NE1800BTDS
KAVE LED LIGHT 1800 LUMEN
Producto fuera de stock. Consultar en los próximos: días de entrega
Data sheet
LIGHTING

PRIMARY

FEATURES

RECHARGEABLE BATTERIES

FEATURES

STROBE LIGHT

FEATURES

POWER SWITCH

LUMENS

From 1500 to 5000

FATHER´S DAY

LIGHTING

TDS

MISCELANEOUS

GIFTS

100-200 €

CHECK YOUR LUGGAGE

LIGHTING
Description:
The TDS Kave is a high power (1800 lumens), high performance, reliable and heavy duty backup diving led light. Designed and manufactured under military specifications. Powered by a Lithium battery (included) 21700 type, increasing the power and autonomy, while maintaining a small size.
Can be used in Technical diving as a backup light in cave and wreck diving, or as a main light or support light in recreational diving for night dives and in any kind of water or land activity as a high power light source.
Mounts a protective rubber ring on the head, which can be customized with different colors (included) to distinguish from other dive buddies or to differentiate between own units.
Features:
White light with 6 operating modes: 
         NORMAL MODE: Short pulse - 1800 lumens - autonomy 1.5 h | Short pulse - 900 lumens - autonomy 3 h | Short pulse: 450 lumens - autonomy 6 h .
         EMERGENCY MODE: Long pulse - SOS emergency | Short pulse - Strobo | Short pulse - Fast Strobo.
         TURN OFF: Long press from any mode
Detection and protection against high temperature, if 50 degrees  are excedeed, the system reduces the power to protect the components.
Battery power detection: when power is low, the control circuit automatically reduces the brightness to 10%.
Battery charge indicator: Blue (High) more than 70% charge / Green (Medium) more than 30% charge / Red (Low) more than 10% charge / Red flashing (Low power protection) less than 10% charge
Control switch on metal body tube
Robust anchorage point at the rear
Anti-impact rubber ring for the head. Customizable with 3 additional colors (included)
Double O-ring seal. Includes 2 spare seals
USB battery charger
Wrist support
Zippered cordure case with plastic zipper and embroidered logo
Technical Specifications:
Power: 10 W
Intensity: 1800 lumens
Beam angle: 10 degrees
Color Temperature: 6500K 
Projection: 100 m 
Autonomy: 90 min - 180 min - 360 min depending on the mode
Battery: Lithium-Ion 1 x 21700
Depth range: 100 m
Dimensions: Diameter: 41 mm / Length: 165 mm
Weight: 195 grs
Latest posts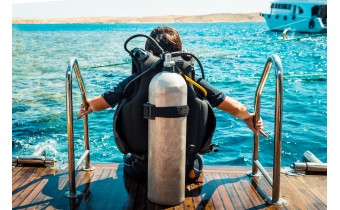 Discovering the treasures that the underwater depth hides and being able to observe...
Read More
View Blog