450-550-650-750 ET SILENT COMPRESSOR (Three-phasic)
Producto fuera de stock. Consultar en los próximos: días de entrega


Description:
Silent reaches new heights in terms of soundproofing, allowing you to drop below the threshold of 70 dB in operation. Built to meet the needs of intensive use and when large refill capacities are required, it is equipped with 4 front filling connections with high pressure hoses and an intuitive control panel. It is also equipped with an electric motor and powerful pumping units. For longer filter life, the Tornado high pressure dryer is recommended. Available as optional: the Presec system for filter saturation control or the SAM system for multigas analysis and remote charging panel.
Purification at the highest level: Placed after the last compressor separator and before the pressure holding valve, the Hyperfilter purification system enables reliable treatment of the breathing air according to DIN EN 12021¹ when using original filter cartridges. The separator present between the 2nd and 3rd stage of the purification circuit allows to extract the greatest possible humidity. The filtering capacity with inlet air at 20 ° C and 200 bar is 4300 m³.
Chassis: Silenced chassis with vertical development, made for environments that require a low level of noise. The oil level and drain reported outside, the control console equipped with inter-stage pressure gauges, the oil pressure gauge, the internal temperature indicator, the presence alarm and incorrect phase sequence, the lack alarm oil and the start, stop and manual condensate drain commands allow easy management and maintenance of the compressor.
4-STAGE HIGH PRESSURE PUMPING UNIT
Monobloc in aluminum,
Gooseneck in forged steel
forced lubrication on the 4th stage cylinder by gear pump
Oil filtration
Aluminum connecting rods
Main roller bearings
Roller connecting rod bearings
1st, 2nd and 3rd stage cylinders in special cast iron
4th stage cylinder in special treated steel.
Stainless steel intake and exhaust valves
Interstage cooling pipes in stainless steel
Separator after the 2nd, 3rd and 4th stage
Safety valves after each stage
Oil level sensor
Prepared for Hyperfilter filter system
ELECTRICAL CABINET
ON / OFF switch with motor protection switch.
Digital electronic pressure switch that stops the compressor at the final pressure.
Drainage of all separators between the individual stages and also of the final separator during compressor operation
Timer for automatic condensate drain.
Integrated no-load start (automatic drain every time the unit is switched off).
5 liter condensate collection tank, with silencer; capacity of about 3 liters, for the ecological disposal of condensate.
Interstage pressure gauges display the working pressure for the individual compression stages. This pressure information allows you to check the tightness of the valves (inlet and outlet) of each stage and to quickly identify potential sources of failure.
STANDARD EQUIPMENT:
4 filling connection to choose from DIN 232, DIN 300 or INT / YOKE 232 bar
4 filling hose 1.2m long
Pressure maintenance valve
Interstage control gauges
Double PED certified Hyperfilter filter system
Cabin internal temperature with automatic switch-off
Automatic condensate drain
Automatic direction of rotation control
Electronic pressure switch with automatic shutdown
Oil level control with automatic shutdown
Oil pump
Automatic condensate drain with conveyor system in the tank
Frame color Blue RAL 5015
PUMPING UNIT
450 ET
550 ET
650 ET
750 ET
CHARGING RATE

450 l/min - 27 m3/h - 15,9 CFM FAD

550 l/min - 33 m3/h - 19,4 CFM FAD

650 l/min - 39 m3/h - 23 CFM FAD

 

750 l/min - 45 m³/h - 26,49 0 CFM FAD

DRIVEN BY
THREE-PHASE ELECTRIC MOTOR 
THREE-PHASE ELECTRIC MOTOR
THREE-PHASE ELECTRIC MOTOR
THREE-PHASE ELECTRIC MOTOR
FILLING TIME**
4,30 min
4 min
3 min
2 min 40 seg
WORKING PRESSURE
232 - 420 bar / 3300 - 6100 psi
232 - 420 bar / 3300 - 6100 psi
232 - 420 bar / 3300 - 6100 psi
232 - 420 bar / 3300 - 6100 psi
POWER
7.5 Kw (230 V - 50 Hz)
(400 V - 50 Hz) (440 V - 60 Hz)
9 Kw (200 V - 50 Hz)
11 Kw (230 V - 60 Hz) (440 V - 60 Hz)
11 Kw (400 V - 50 Hz)
15 Kw (230 V - 60 Hz) (440 V - 60 Hz)
15 Kw (230 V - 60 Hz) (440 V - 60 Hz)
DIMENSION (W x H x D)
93.5 x 130 x 173.5 cm
36.8 "x 51.3″ x 68.3 "
93.5 x 130 x 173.5 cm 
36.8 "x 51.3″ x 68.3 "
93.5 x 130 x 173.5 cm 
36.8 "x 51.3″ x 68.3 "
93.5 x 130 x 173.5 cm 
36.8 "x 51.3″ x 68.3 "
NET WEIGHT APPROX.
446 Kg / 983 lbs
451 Kg / 994 lbs
455 Kg / 1003 lbs
463 Kg / 1020 lbs
NOISE LpA
90 dB
90 dB
90 dB
90 dB

**FILLING TIME CYLINDER 10 l-0/200 bar (measured by filling cylinder from 0 to 200 bar ±5%)
Latest posts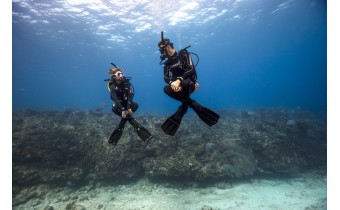 If you want to explore the mysteries of the underwater world and get your PADI...
Read More
View Blog