TKILH4ETDS
HYDOR UMBILICAL LED LIGHT 4000
Producto fuera de stock. Consultar en los próximos: días de entrega
Data sheet
LIGHTING

PRIMARY

FEATURES

RECHARGEABLE BATTERIES

FEATURES

POWER SWITCH

FEATURES

CANISTER LIGHTS

LUMENS

From 1500 to 5000

SUMMER SALES

LIGHTING
Description:
HYDOR UMBILICAL is a 4000 lumens 12 degrees umbilical spotlight for technical diving, the light it generates is a concentrated beam of high intensity, The magnetic control switch located on the head, allows its use with one hand, has brightness adjustment of 3 levels, and built-in battery level indicator. 
Its improved goodman handle is fully adjustable in all positions, allowing it to be configured for left or right hand use. The height adjustment can be made in immersion thanks to a quick action knob. It has perforations to customize the fit with bungee cords and different attachment options.
Overheating protection system, if used in temperatures above 50 degrees, the light is automatically dimmed to prevent damage to internal components.
The 1.1 m long, highly flexible, waterproof cable has a highly abrasion-resistant outer sheath and is connected to the canister and head by means of wall bushings with kink protection.
The battery canister includes a harness holder by means of clamps and Velcro webbing. 
Features:
4000 Lm.
Emission angle 12°.
Adjustable Goodman handle (includes allen wrenches for mounting and adjustment)
Color temperature 6500K
Autonomy: 4000 lumen - 6 hours | 2000 lumen - 12 hours | 1000 lumen - 24 hours
Battery level power button with battery level indication, 65% blue, 30% green, 3% red, 3% red flash.
Overheat protection
Rechargeable lithium-ion battery
1.1 m waterproof cable
Depth 200 m,
Materials Corrosion resistant aluminum alloy.
Rubber contact protection cap for protection during charging.
Canister holder for harness webbing *.
Spare gasket set with removal tool * Goodman handle and harness strap
* Goodman handle and harness canister holder requires simple assembly by the user.

PRODUCT ACCESSORIES

Latest posts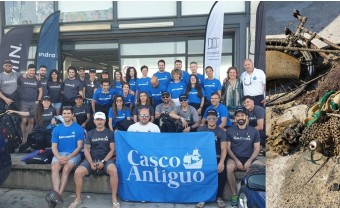 As part of its commitment to the care and respect for the sea, Casco Antiguo has...
Read More
View Blog