Producto fuera de stock. Consultar en los próximos: días de entrega
Data sheet
SCOOTERS

NIMH

SCOOTERS

RECREATIONAL DIVING

WOMENS WEEK

SCOOTER DPV
Description:
Recreational DPV with two-speed control and HI-GR compound propeller. The VR-T uses a Nimh battery that recharges in just 4.5 hours and offers 100 minutes of autonomy at cruising speed and 60 minutes at a maximum speed of 65 m/min. VR-T is suitable for air travel, allowing the diver to travel around the world without worrying about logistics.
Fetures:
Charge indicator with nine high-intensity blue LED lights located at the rear of the scooter
Patented locking system without hooks or screws, minimising the risk of snagging and eliminating the risk of accidental opening
Fully mechanical safety system to cut off power in all conditions
Poplock Propeller: Patented system for releasing and refitting the propeller underwater without tools and separate parts
Speed Adjuster: Electronic propeller speed control device and Soft Start system for progressive starting of the motor
Easy Inspection: Battery/motor separator in transparent material for easy inspection of the motor compartment
Control Handle: Ergonomically designed control handle for easy control of direction and speed
Watertight  Compartment: Watertight separation of the motor compartment and the battery, for increased safety when diving and protection during preparation
Technical Specifications:
USE :Recreational
LENGTH: mm 720 (inch 28.3)
WIDTH: mm 340 (inch 12.9)
HIGH: mm 425 (inch 16.7)
BODY DIAMETER: mm 200 (inch 7.8)
WEIGHT WITHOUT BATTERY: kg 11,50 (lb 24.5)
WEIGHT WITH BATTERY: kg 16,50 (lb 35.3)
BODY MATERIAL: Technopolymers / Polycarbonate
MAX. STATIC THRUST: N 200 (lb 44.96)
MAX SPEED: mt/min 65 (ft/min 213)
MAXIMUM OPERATING DEPTH: m 101 (ft 331)
BUOYANCY / TRIM: Neutral / Neutral
IN-WATER USAGE TEMPERATURE: °C -5/+35 (°F +23/+95)
AUTONOMY (MAX SPEED): 60 min
AUTONOMY (CRUISING SPEED): 100 min
TYPE OF BATTERIES: Nimh
NOMINAL VOLTAGE: Volt 24
NOMINAL CAPACITY: Wh 324
MAXIMUM CHARGING TIME: h 4,5
BATTERY CHARGER POWER SUPPLY: Volt 110/220 50/60HZ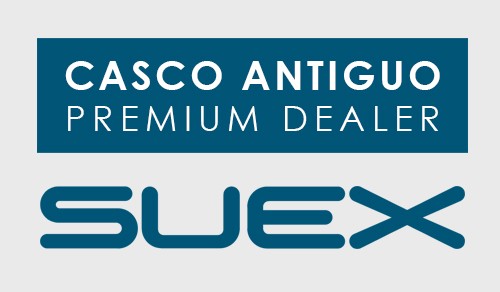 Casco Antiguo SUEX Premium Dealer in Spain.