MA4234161975
VIPER PRO SPEARGUN 75
Producto fuera de stock. Consultar en los próximos: días de entrega
Description:

The new Viper Pro and Viper sling guns are characterized by excellent construction quality paired with innovative technical solutions that make it possible to guarantee great precision, power, maximum rigidity, and manageability.

Optional swiveling band fork adapter, for traditional dual slings. Stainless steel release mechanism in a reversed position, manufactured in stainless steel with high precision laser cut. Adjustable trigger sensitivity, and on Viper Pro the distance between the trigger and the handle can be customized.

Stainless steel side line-releaser and two lateral alligator clips.

Speed ø 6.5-mm tahitian shaft, S-Power Speed ø 19-mm circular sling, and Vertical Spiro 65 reel on Viper Pro 90 and 75, Vertical Spiro 87 on Viper Pro 100 and 110-cm.

Aluminum Barrel.
Upper guide for arrow and bottom guide for thread.

Preformed grip with concave thumb surface. High functionality grip. Handle coated with a soft, high visibility non-slip material.

Features:


Rigid aluminum anodized cannon with upper guide for the arrows and lower guide for the line
Open-mouth design with inclined holes
High sensitivity trigger mechanism in inverted position
Stainless steel lateral mechanism for the release of the line
The distance between the trigger and the grip can be customized.
Preformed grip with new highly functional anatomical grip
Reinforced load bearing of variable deformation
Arrow speed: 6.5 mm Tahitian arrow with a single point
Sling Material: Latex with Dyneema Wishbones, S-Power 19mm Circular Sling
Includes Vertical Spiral Reel
Latest posts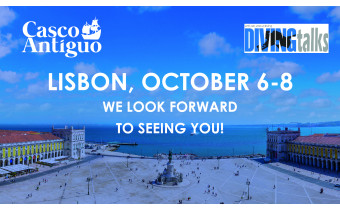 The International Diving Congress, Diving Talks, will be held from October 6th to...
Read More
View Blog