BRTDRGOCEADIN
OCEANUS PS REGULATOR
Producto fuera de stock. Consultar en los próximos: días de entrega
Data sheet
REGULATORS

REGULATOR

FIRST STAGE

PISTON

FIRST STAGE

NO BALANCED

FEATURES

ADJUSTABLE 2ND STAGE

SUMMER SALES

REGULATORS
Specific References
ean13

8435518923374
- ALSO AVAILABLE IN PACK -
Description:
The Oceanus PS model is the single piston TDS series regulator. Simple configuration for high reliability and light weight. Ideal for diving schools, divers who are looking for simplicity, but also chosen by technical divers for stages.
The first stage has 4 low pressure LP ports and one high pressure HP port, which allows a standard configuration with an additional low pressure outlet to connect a dry suit inflation hose. 
The body is made of marine grade brass with a matte acid chrome plating on the body for a very attractive appearance.
The balanced second stage has a venturi control to prevent continuous flow and is made entirely of durable thermoplastic.  
First and second stage communicate with a 74 cm LP hose, with swivel on the second stage.
First Stage:
Machined from marine grade brass.
Single piston.
Medium pressure 140 +/- 5 PSI (9.65 +/- .35 BAR) adjustable (on SAT)
4 LP low pressure ports
1 HP ports
DIN 300 and INT Yoke versions
Rubber sealing plug on both versions.
Second Stage:
Pneumatically compensated
Abrasion resistant thermoplastic
Venturi control knob
Rubber purge button with logo engraving
74 cm LP hose
Technical Specifications:
Maximum Working Pressure: INT 3300 PSI / 232 Bar | DIN 4350 PSI / 300 Bar
Intermediate Pressure: 140 +/- 5 PSI (9.65 +/- .35 BAR)
Ports / Outlets: 1 HP 7/16", 4 MP 3/8"
ANSTI Tested Depth: 80 M
Certified Depth: 50 M
Gas: Air / Nitrox (up to 40%)
Latest posts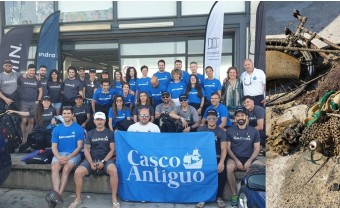 As part of its commitment to the care and respect for the sea, Casco Antiguo has...
Read More
View Blog