Producto fuera de stock. Consultar en los próximos: días de entrega
Description:

The Mares Loop Octo pairs the Loop regulator for a unique design of 2nd stage. Having the inlet hose fitted vertically makes donation easy and faster as the orientation is more natural and the mouthpiece routes more naturally.

Unlike traditional 2nd stages the hose is mounted to the underside of the mouthpiece. Your primary hose routes behind your shoulder and under either arm and then up into your mouth, reducing chances of your hose catching on anything or being damaged and makes you more streamlined.

Technical divers who use side-mounted stages can route their hose straight from their 1st stage without any odd bends or strain in the hose. The vertical orientation also makes the Loop omni-directional so you don't have to worry about which side it comes from, the 2nd stage is always upright.

Donating is also neater as there is no confusion which way up the 2nd stage is in an out of air situation. Holding the hose you know the 2nd stage is upright so you don't have to worry about flipping it over or awkward bends in the hose.Characteristics:


Can be mounted on the right or the left side
Freedom of movement in all directions
"Under the shoulder" hose position
Integrated sagittal vad (s-vad)
Oversized silicone purge button
Latest posts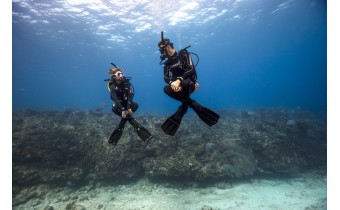 If you want to explore the mysteries of the underwater world and get your PADI...
Read More
View Blog