FTFSEA5157
UWL-09F WIDE ANGLE LENS
Producto fuera de stock. Consultar en los próximos: días de entrega
Data sheet
BUILT IN MATERIAL

ALUMINIUM

WORKING DEPTH

60 M

COVERAGE ANGLE

120º

SUN PROTECTOR

INCLUDED

THREAD

67 MM

LENS MOUNTING SYSTEM

THREAD

EXTERNAL DOME

NOT COMPATIBLE
Sample picture, housing <NOT INCLUDED

Description:

Wide angle conversion lens

Features:


Bezel Material: Aluminum alloy with black hard coating
Lens Construction: 5 groups and 5 elements
FOV (Field of View): 130 degrees (using with a 28mm Lens)
Lens Coating: Hard coating on the Polycarbonate dome lens + Multi layer AR coating on all glass lenses
Dimensions: 133.3 x 94.4 mm / 5.2 x 3.7 inch
Included in Box: Lens cover, lens carrying case and secure string
Depth Ratio: 60 meters / 200 feet

High Optical Performance :

UWL-09F offers unmatched quality with 5 multi-layered precision optic elements (organized in 5 groups). Images captured with the lens are exceptionally detailed and feature impressive overall sharpness. The combination of a super wide field of view (130 degrees) and zero minimal focus distance provide unlimited opportunities for image framing and creative compositions, including close focus wide angle and over-under (half/half) split images. Professionally engineered elements eliminate chromatic aberration. The AR (anti-reflection) coating on all glass elements assists in avoiding lens flare from the sun or artificial light sources.

Durable Construction:

Lens barrel is made from durable Aluminum alloy with black hard coating. The dome is covered with hard coating as well, protecting it from easily getting scratched or damaged. During development, the lens was thoroughly tested in extreme conditions (depth, temperature, salinity and radiation) to ensure resistance and durability on the long run.

Rotatable Wings:

Lens wings feature an improved design and can be rotated anytime underwater according to image composition without using any tools. Vertical and horizontal images can be easily captured without having the sun or strobes reflecting on the dome and interfering with crystal clear images.

Universal Compatibility:
The lens features a 67mm thread mount, compatible with most housings available in the market today. Perfect to be used with compact, mirrorless or SLR housings. Two different adaptors are included with the lens, to ensure the best fit with all type of housings, sparing the need to solve ahead any compatibility issues or source additional adaptors separately. The base of the mount is covered with a rubber ring, providing a firm grip of the lens during installation and removal. Its narrow design allows using the lens with most lens holders, adaptors, bayonet mount converters, flip mounts and quick release adaptors.

Accessory Package :

Lens comes with a secure loop installation kit and quick release secure line to ensure the lens is safely secured to the system even when removed from the housing lens port. Non corrosive front and rear lens caps are included in the box. A quality padded carrying case allows safe storage and transportation.

Warranty & Best Service :

The lens includes warranty against defective materials and workmanship under reasonable use for a period of 1 year. If damaged, the dome of the lens can be replaced with a new one for a discounted price during the 1-year warranty period. In addition, Fantasea offers a professional and responsive service program.
Latest posts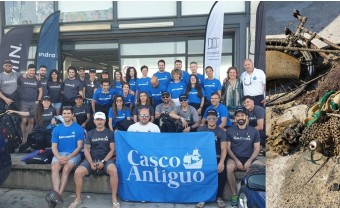 As part of its commitment to the care and respect for the sea, Casco Antiguo has...
Read More
View Blog