FTFSEA1371
FG7XIII HOUSING FOR CANON G7X MARK III
Producto fuera de stock. Consultar en los próximos: días de entrega
Data sheet
HOUSINGS

PHOTO

TYPE OF HOUSING

COMPACT

CAMERA BRAND

CANON
Illustrative image, camera NOT INCLUDED.
Description:
New version of the Fantasea FG7X III housing, compatible with the Canon FG7X III camera.
The FG7X III A R housing comes with the electronics for the vacuum system, so if you later want to adapt your housing to the vacuum system, you only have to buy the valve and the Fantasea M16 vacuum pump (Sold Separately).
The Fantasea FG7X III Housing has been manufactured following the highest standards of quality and design, in order to offer an attractive, resistant and functional product.
Submersible up to 60m with all the functionalities of your Canon camera operative in and out of the water.
The vacuum system allows you to monitor the watertightness of the housing before and during the dive.
Outstanding features:
Ergonomic design
Made of injected polycarbonate mold.
Fully serviceable chamber with easy access to all controls
Impact resistant
67mm front
Sealed with double O-ring seal
Prepared for mounting lighting
Connection for double fiber optic cable
Removable diffuser
Easy and safe camera installation
Removable anti-reflective LCD cover
Moisture detector included
Now with M16 port
Now with built-in electronics for vacuum system
Handheld camera holder and lens protector included
Direct video recording button from any mode in use
Compatible with a large number of photo accessories
Weight on ground with camera: 1099g
Ground weight without camera: 795g
Measurements without accessories: 16.5 x 13 x 13 x 13 cm (16.5 x 13 x 13 x 13 cm)
Manufacturer's warranty included
Compatible with Canon G7X III camera
Submersible up to 60 meters
Valve and vacuum pump sold separately 
IMPORTANT WARRANTY NOTE:
These housings carry their statutory statutory warranty against manufacturing defects. However, please note that this warranty does not cover possible damage to the chamber or device housed in it due to flooding or water ingress.
To ensure this warranty, and although each unit has passed the mandatory quality controls, the manufacturer recommends performing a previous immersion test with the housing empty to check its correct operation and watertightness in order to detect, if any, possible defects or flooding. In case of any defect, this warranty would act by replacing the defective casing with a new one, after verification at the factory. It is the user's responsibility to perform this test.
Once this test has been passed, it will be considered that the casing works correctly and, on this basis, any subsequent flooding will be attributed to possible accidental faults in the handling by the user.
Therefore the warranty will not cover possible damages to the devices inserted in the housing, considering it the customer's responsibility to have previously tested the housing to check for possible defects.
Latest posts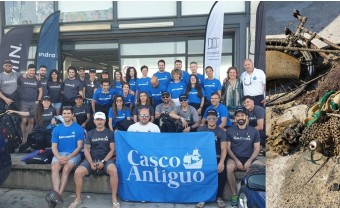 As part of its commitment to the care and respect for the sea, Casco Antiguo has...
Read More
View Blog