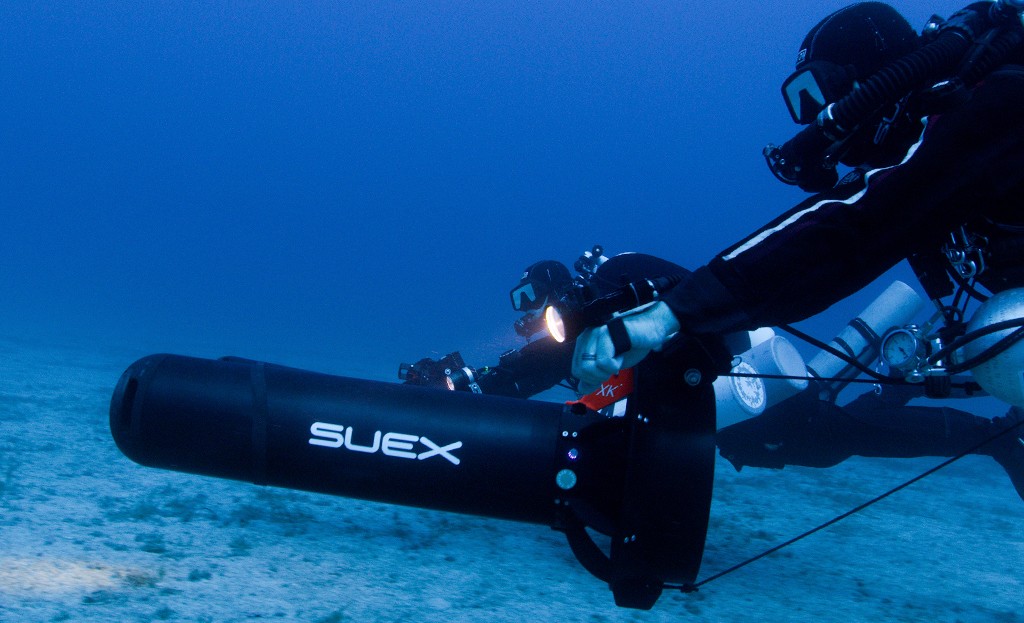 Suex Underwater Scooter
The time a human being can stay underwater and the distance they can travel are limited during a single dive, which is why the use of appropriate equipment is synonymous with optimizing each expedition to the fullest. 
As part of its commitment to offer the best diving products, Casco Antiguo has reached an agreement with the renowned Italian company SUEX, being premium distributors of the entire product range, as well as the official S3 technical service center.
What is a DPV underwater scooter?
A DPV or Diver Propulsion Vehicle is a submersible motor vehicle that, by means of heli-propulsion, serves as a means of transportation for the diver during the dive, increasing the distance, optimizing the time and reducing the effort, becoming a functional and safety element when performing certain types of dives.
What functions can a scooter have?
Different types of scooters will be used depending on the purpose of the dive, classified by size, motor power, working depth and battery autonomy. The SUEX line features recreational, technical, professional and military scooters. Their neutral buoyancy makes them highly maneuverable and versatile during the dive.
The recreational line is used for reef diving, underwater filming, wreck exploration and as a propulsion element for freedivers. They are easy to transport by plane and can be taken on different dive trips. The DPV 7 SEVEN, DPV VR-T and DPV VRX models stand out. 
In the technical/professional line, aside from its power and autonomy, the main feature is the possibility of adding accessories such as the SINAPSIS head, designed for underwater navigation. They are used for deep dives, long duration and travel dives, as well as cave diving. The DPV XJ-T, DPV XJ-S and DPV XK models stand out.
In the military field, they are fully customized scooters with exclusive functions and features for security, army and tactical forces.
Aspects to be considered
As with any motor vehicle, scooters need to be used properly, that is why in Casco Antiguo we have qualified personnel who can inform you about the different models available on the market that best suit each use.