TKAPRGRP1111111
SIDEMOUNT MTX-R REGULATOR SET
Producto fuera de stock. Consultar en los próximos: días de entrega
Description:
The MTX-R Sidemount Assembly is a super tough, rugged, high performance sidemount regulator configuration designed to meet the rigors of cold water and extreme sidemount diving. The MTX-R is very reliable and also very easy to maintain in the field, making it an ideal choice for expedition and exploration divers.
The MTX-R has excellent cold water performance and has a greatly reduced risk of free flow. This has been achieved through improvements in several areas, including an innovative end cap and environmental diaphragm a forged 1st stage body that offers maximum thermal preference, a ribbed diaphragm clamp and a redesigned and enlarged 2nd stage heat exchanger with metal incorporated inside. redesigned and enlarged 2nd stage heat exchanger with metal incorporated into the front cover design.
First stage
Available in SSTRIBE or DIN configuration.
Suitable for use in cold water (below 10°C / 50°F).
Unique overbalanced diaphragm design: as the diver descends the overbalance feature allows the medium pressure gas in the medium pressure in the hose to increase at a faster rate than ambient. This results in performance at depth.
Innovative overmolded end cap and ambient diaphragm, a forged first stage body offering maximum thermal performance. first stage body offering maximum thermal performance.
The 3/8" UNF medium pressure 5th port includes a protector when not in use.
Forged first stage body with heat exchange ribs for maximum thermal performance. thermal performance.
Angled high-pressure ports for optimum hose routing and transmitter adjustment.
Forged swivel turret with medium-pressure ports in parallel direction for better hose orientation.
Fluted diaphragm clamp for improved heat exchange in cold water conditions. cold water conditions.
Double swivel hose for greater freedom of movement and comfort.
Tested for Octopus - EN250A use in cold water.
Nitrox/Oxygen Compatible - Up to 40% O² outside the EU (European Union), within the EU, anything above 21% O² must use an M26 connection.
Second stages
Easy to use without immersion controls, preset cracking effort or venturi control by an Apeks approved qualified technician.
High performance, lever operated, pneumatically balanced poppet valve.
Large, diver-friendly, controllable purge button.
Front cover with overmolded elastomer bumper incorporates a formed chrome-plated brass plate that enhances the durability of the demand valve.
Large protective elastomer bumpers on the side and top to protect the demand valve from impacts and scratches in the most vulnerable places.
Reversible second stage for left or right hand gas supply.
Heavy-duty satin chrome plating.
All gas contact molded parts are manufactured with an active protection additive that kills MRSA, protects against E-Coli, bacteria and fungi, and is also highly effective against viruses, mold, yeast and algae.
Large heat exchanger installed to help reduce second stage freezing.
Compatible with Nitrox/Oxygen.
Including on Set:
2 X DPT DIN 1st stages with 5 port swivel turrets.
2 X MTX-R second stages.
210 cm double swivel hose.
61 cm double swivel hose
2 X 25 cm length MP inflation hoses (one for buoyancy system, one for drysuit)
2 X TEK pressure gauges with 18cm hoses
1 X 90° elbow fitting
1 X bungee necklace
1 X bungee clip
1 X stainless steel bolt snap
2 sets of short exhaust ports
Regulator bag
Setup illustration, CD manual and quick start guide
NOW INCLUDES THE NEW BUNGEE CONNECTOR SYSTEM
Latest posts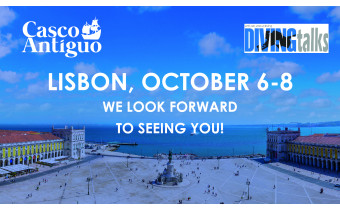 The International Diving Congress, Diving Talks, will be held from October 6th to...
Read More
View Blog