TKAL0101FA247101MAPK
RK3 HD FIN GREY
Producto fuera de stock. Consultar en los próximos: días de entrega
Description:

The RK3 HD is the next fin in the RK3 range of fins. The RK3 HD is made from a higher density material than the standard RK3, which makes the fin stiffer and heavier. The RK3 HD was developed in response to feedback from divers who prefer a heavier fin. The new compound of the RK3 HD adds more weight to make it negatively buoyant.

An ideal fin for dry suit diving.

Features:


Based on one of the first vented rubber fins sold in North America and popular among military and professional divers.
Compact, and ultra-rugged for use in harsh environments.
Improved foot pocket with spring straps for ease of use with cold hands or thick gloves.
The design has been the standard gear issue fin for military, special ops, coast guad and public safety divers for decades.
Short wide blade provides maximum forward thrust while maintaining great manoeuvrability.
Vented blade design reduces resistance on the upstroke and enhances thrust on the downstroke.
The vents also eliminate vortexes that can occur along the back of the blade much in the same way split fins eliminate the vortex.
The blade material designed to hold up in the toughest environments, temperatures and abuse.
Two large grommet holes designed to fit most karabiners for easy storage of the fins while accessing the dive site.
Spring straps as standard.
Custom designed buckle holds spring straps in optimum position.
Latest posts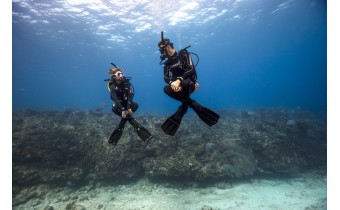 If you want to explore the mysteries of the underwater world and get your PADI...
Read More
View Blog