CREBFE343095
MOICANO CAMU SPEARGUN 95
Producto fuera de stock. Consultar en los próximos: días de entrega
Description:
MOICANO is a spear gun for quick fishing with optimal management due to its ø26mm tube in anticorodal aluminum with circle section especially rigid, a solution that offers a good compromise between deformation prevention, low productive cost and facility of movement in all directions under water. So it's a really handy, agile and polyvalent spear gun.
Low erosion integral guide because the rod is supported only in two external angles. Reinforced low area through thicknesses over sizing. This combination allows the spear gun to maintain an extraordinary management at the same time it has higher rigidity than the one of spear guns with much bigger diameter.
HEAD
New anatomic head with minimized integrated burden support derived from the mythic Apache-Comanche head, really resistant, reliable and valued by competition fishers as a perfect model for quick fishing without hook issues. This head, with proverbial ergonomics, is very versatile for all kinds of fishing and shot in any position. Quick and soft hook of the rod with cassette mechanism, hard and reliable that admits any kind of rod with a great tolerance to different heights, finishes and mechanisms. Very integrated, discreet and effective retractile cable holder on the angle between the trigger guard and the beginning of the tube's basis. Handle in anti-sliding white thermoplastic rubber. Minimized burden support in very soft and adherent thermo rubber.
HEADBOARD
New headboard completely round with new design to allow the quick placement of the rod after the shot without the need of entering longitudinally regarding the tube. Compact, minimalist and hydrodynamic. The hook of the rubbers is in axis with the tube to make traction perfectly in axis. The visibility offered by the headboard is excellent and the aiming maneuver is precise, quick and intuitive. Stainless steel guide for the rope or nylon integrated in the headboard.
TUBE
Mimicked tube in brown and green colors. It has attractive aesthetics and polyvalent colors for the Mediterranean and Atlantic areas.
RUBBERS
Rubbers of optimal quality in pure black latex with 16mm diameter and articulated howitzer. They can be replaced by the most powerful S45 of 18mm or also in the largest versions with G20 of 20mm diameter.
HOWITZER
Articulated Leggero howitzer. Tempered stainless steel splint of high resistance to breaks and extremely effective grip. It's available as spare part and it can be easily replaceable without the need of tools. Hardened stainless steel AISI 304 rods of 4 mm with blocking system through ring and auto blocking nut. Great quality bushings in Delrin with screw calculated to make comfortable the screwing and unscrewing actions of the rubbers with the fingers and without the need of tools.
ROD
Tempered steel rod 17 4 PH (AISI 630) of 6mm diameter. Dark finish.
Latest posts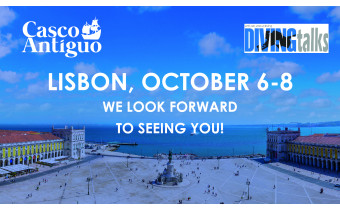 The International Diving Congress, Diving Talks, will be held from October 6th to...
Read More
View Blog