CREEFZ400001
STANDARD SPEARGUN BAND (SPEARGUN 45-50)
Producto fuera de stock. Consultar en los próximos: días de entrega
Description:
Exceptional Cressi-sub rubbers, studied carefully to use them in all kinds of fishing and spear guns, that are perfect for hole fishing of medium pieces with 6mm and 6.5mm rods. Its composition, level of hardness and thickness are the result of loads of proofs made to different models and the final product answers the requirements of the medium / medium-high level fisher.
The basic composition is pure latex of Malaysia without any kind of burden or mix of impurities in its composition, except for the black color and the inert necessary products to provide them the perfect hardness (shore 42) and make them highly resistant to UV action, salt water and ozone.
Its pure composition make them to have an extraordinary elasticity that is translated to be a completely homogeneous company of the rod, increasing in this way the shot's scope and inertia and the penetration capacity of it, with a reduced burden difficulty comparing it with other rubbers of lower efficiency.  This elasticity allows using with facility short dimensions (depending on the liking and capacity of the fisher), increasing the rubber pushing travel over the rod, which puts it in advantage before rubbers of higher diameter or hardness.
Its power is due to the relative hardness of its composition (shore 42 vs. usual levels from 38 to 42) and its diameter 16.5mm vs. 15mm or 15.5mm (the real diameter of some rubbers announced to be 16mm). A precise coupling process guarantees the maximum similarity between both rubbers both in length and in Shore hardness.
The exclusive fabrication system of the Cressi's latex tube allows being perfectly straight rubbers without the usual curvature in other rubbers that are produced in rolls.
They're provided with white latex serigraphy to identify the article and with vacuum-packed blister "skin" for a greater facility of exposition in the shop and isolation from the exterior.
Latest posts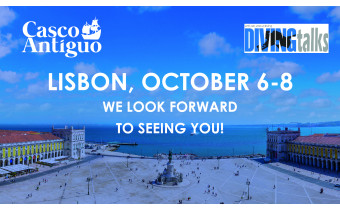 The International Diving Congress, Diving Talks, will be held from October 6th to...
Read More
View Blog