SBYBT175003
SPARE AIR HEED 3 WO/REFILLER
Producto fuera de stock. Consultar en los próximos: días de entrega
Data sheet
TANKS AND VALVES

ALUMINIUM

CAPACITY

TWIN CYLINDERS 12

PRESSURE

200 BAR

FATHER´S DAY

TANKS
Description:

The Helicopter Emergency Egress Device 3 (HEED 3) manufactured by Submersible Systems, Inc. is a compact, lightweight and reliable self contained breathing apparatus. The HEED 3 is designed to increase the survivability of military and commercial personnel in short-term out-of-air emergencies.

Based upon the popular Spare Air® used for SCUBA Diving, the HEED 3 utilizes the same 3rd generation patented regulator that has made the Spare Air the most sold SCUBA Safety breathing device in the world.

Features:


Provides lifesaving air needed to egress from a downed aircraft or a rolled vehicle in the water.
Ideal for all helicopters, fixed wing aircraft, float planes, watercraft and vehicles that operate around possible water emergencies.
Protects personnel from inhaling dangerous and lethal toxic fumes from fire or smoke.
The HEED 3 is also known as the SEED (Supplementary Emergency Escape Device), the STASS (Short Term Air Supply System), Spare Air® (The SCUBA recreational dive version), Spare Air Industrial (packeged for commercial personnel exposed to toxic fumes), Spare Air Escape (includes a mask to allow home users to escape from smoke and fire), and Xtreme Sport (our smallest model for Kayakers, Surfers and other extreme sport enthusiasts).
Over 250,000 systems sold worldwide.

Technical Features:


Product Length: 8.75" [22.23 cm]
Product Diameter: 2.25" [5.71 cm]
Product Weight(full): 1.51 lbs [.687 kg]
Cylinder Pressure Ratings: 3000 PSI [200 BAR]
Cylinder Volume: 1.7 cu ft [48 liters]
Cylinder Material: Aluminum - Black Anodized
Pressure Relief: Integrated in regulator
Regulator Type: Balanced Single Stage
Operational Temperature: -22°F [-30°C] +158°F [+70°C]
Duration of Air Supply: Approximately 30 breaths at surface
Altitude Limits: Tested at up to 35,000 feet (10,500 meters)
Latest posts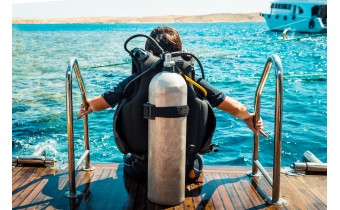 Discovering the treasures that the underwater depth hides and being able to observe...
Read More
View Blog