SBBT300PKCE
SPARE AIR BLACK (CE Mark)
Producto fuera de stock. Consultar en los próximos: días de entrega
Description:

3.0 cu ft (85 li) aluminium bottle 0,44 l aluminum , with integrated regulator . It is used as an emergency system not only for divers , but also by helicopter pilots or surf photographers.

CE approved and meets all specifications and European standards for pressure vessels.

Specifications:


85 lliters (3.0 cubic feet of air)

Tank finish in black anodized
Easily refills from your own SCUBA tank with included refill adapter (patented)
Easily attaches to your BC with included holster and safety leash
Small, hands-free, nearly neutrally buoyant
Breathe on demand regulator - No complicated instructions
Completely redundant back-up miniature SCUBA system
Faster than buddy breathing and easier than an octopus


Características Técnicas:


Maximum Capacity:3.0 cu ft / 85 liters
Length: 13.4" / 34 cm
Diámeter: 5.71 cm
Max Pressure: 200 bar / 3000 psi
Weight (full): 0.985 kg
Surface Breaths*: 57 *
Water Volume: 26.62 cu in / .44 liters

*Based on 1.6 liters per breath
Latest posts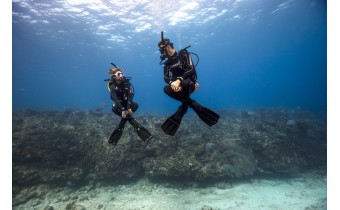 If you want to explore the mysteries of the underwater world and get your PADI...
Read More
View Blog