SC25728500
SEAWING NOVA GORILA FIN MILITARY GREEN
Producto fuera de stock. Consultar en los próximos: días de entrega
Data sheet
TYPE OF FIN

SCUBA

FEATURES

OPEN HEEL

FEATURES

RUBBER

FATHER´S DAY

FINS
Specific References
ean13

4048336406604
Descripción:

THE FIN OF CHOICE WHEN THE DIVING IS DEMANDING

This award-winning fin delivers power, acceleration, and maneuverability with a slightly stiffer blade for divers who prefer more feedback in their kicks.

While virtually identical in appearance to the Seawing Nova open-heel fin, the SEAWING NOVA GORILLA uses a special additive in its compound to provide more stiffness and snap to the blade. This results in more power and control for divers who like a stiffer fin with more "feedback." The stiffer blade also allows for more effective sculling, frog-kicking and back-kicking, which makes it a good choice for tech divers.

Stiffer blade aside, the SEAWING NOVA GORILLA delivers all the design innovations and technological advancements you find in the Seawing Nova. Spotlighting its proprietary G4 (4th Generation) articulated hinge that enables the entire wing-shaped blade to pivot and generate thrust, the SEAWING NOVA GORILLA produces a propulsive snap that can rocket you through open water at top speed, but where it really shines is in low-speed maneuvering, offering excellent control when making small directional adjustments.

The SEAWING NOVA GORILLA features a well-engineered footplate with co-molded Grip Pads that provide efficient non-skid footing on slippery boat decks or dive ladders. It also features the popular self-adjusting heel strap made of marine-grade bungee. This bungee is highly elastic, resistant to the elements and the soft heel pad with over-sized finger loop is comfortable and simplifies doffing and donning.

The SEAWING NOVA GORILLA combines classic SCUBAPRO fin technology with the latest innovations in hydrodynamic design, then adds a dash of stiffness to the blade to aid serious divers who often find themselves in demanding conditions.

A truly unique and successful fin that has earned accolades since its introduction, the SEAWING NOVA GORILLA continues to set the bar in dive fin design.

Caracteristicas:


Built with a space-age Monprene elastomer that is virtually indestructible. It includes a special additive to enhance stiffness and deliver excellent kicking feedback.
Proprietary G4 articulated joint allows the entire blade to pivot and generate thrust.
Wing-shaped blade creates a near-perfect balance of stiffness and flex.
Variable Blade Geometry wing tips arc upwards, providing more power and increasing stability.
Pivot Control technology ensures that the most efficient 45-degree angle of attack is maintained no matter how easy or hard you kick.
Marine-grade bungee strap is self-adjusting, comfortable, extremely durable, and makes easy work of donning and doffing the fin.
Re-engineered footplate with co-molded Grip Pads provides a dependable non-skid grip on wet surfaces.


Technical Features:

Performance and grip on slippery surfaces is better than ever.


The foot pocket's ergonomic toe box is ultra comfortable while the Power Plate footplate extends all the way to the back of the heel, maximizing power transmission while minimizing leg and ankle strain.
Co-molded Thermo Plastic Vulcanizate (TPV) heel pad and mid-sole pad with rough surface provide an excellent non-slip grip on wet surfaces. The TPV is highly tear resistant and durable.
Revised blade geometry: lateral rigidity has been slightly increased to improve alternate kicks and to improve responsiveness and thrust at full power.
Latest posts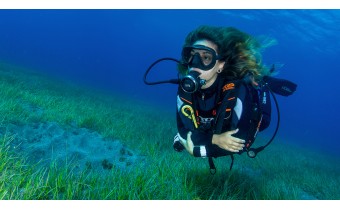 To enjoy your dive with complete safety and comfort, you need to practice...
Read More
View Blog