CREABG189545
MASK + SNORKEL + PRO STAR BLACK FIN SET
Producto fuera de stock. Consultar en los próximos: días de entrega
Data sheet
TYPE OF FIN

SWIMMING AND SNORKELING

FEATURES

FULL FOOT

OUTLET

FINS

OUTLET

MASKS & SNORKEL

WOMENS WEEK

FINS

WOMENS WEEK

MASKS & SNORKELS

GIFTS

50-100 €
Specific References
ean13

8022983067575
Pro Star Fins:
This is a futuristic fin, deriving from the Cressi deep sea skin-diving models, which introduces the use of more reactive materials also in the full foot fin sector of normal length.
In fact, the blade is not made from copolymer but from exceptionally light and reactive polypropylene.
This material is combined with a comfortable thermo-rubber (elastomer), used for the foot, for the side stringers and for various inserts.
The blade originates from the upper part of the foot pocket, with a 20% increase in useful surface area compared to a traditional fin of the same length.
The side stringers extend for a good way along the blade, continuing in a protective seal around the whole edge of the blade.
Two stabilizing flaps on the end of the blade, on the sole of the foot, guarantee excellent direction of the fin during kicking.
The excellent, highly anatomic, computer-designed foot, guarantees optimum transmission of leg-fin thrust.
The resulting cocktail is a formidable product that makes kicking easier and powerful at the same time.
Pro Star, together with Reaction Pro model, is the most powerful full-foot fin in the Cressi range, except for models specifically designed for deep-sea skin diving and is an excellent choice for snorkeling, skin-diving and Scuba dives.
Matrix Mask:
Following the revolutionary principles introduced by Big Eyes, the Matrix establishes new records.
The Cressi patented raked lenses and their special "inverted drop" shape has been developed even further.
The lenses are now as close as possible to the eyes, taken to the maximum levels possible.
The newly designed frame is very streamlined and ends up being completely invisible when the mask is worn.
The top part of the mask has strong grip rubber material inserts, for a great look.
The soft silicone skirt has a new profile and a broad seal ring for excellent waterproofing and comfort without precedent.
The internal volume of the mask is exceptionally low, lower than many well-known freediving masks and the weight is also very moderate.
Two pressure buckles integrated into the frame make strap adjustment quick and precise. This new design strap has a very broad purchase on the neck for magnificent comfort.
Excellent mask for snorkelling, scuba diving and skin diving.
Gamma Snorkel:
Profiled guard: this drastically reduces water intake and splashing from the top without blocking breathing.
Adjustable attachment: system of quick-attachment to the mask strap, which runs along the snorkel bore for perfect positioning.
New drainage well: this draws all the remaining water to the bottom end of the tube, preventing all blockage to breathing.
Internal elliptical valve: the elliptical valve optimises water drainage, making it quick and easy to purge the snorkel.
Latest posts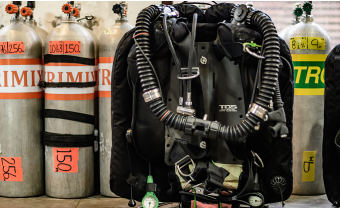 Technical diving is characterized by the depth,...
Read More
View Blog