SC12927070
MK17 EVO S600 REGULATOR
Producto fuera de stock. Consultar en los próximos: días de entrega
Description:

The new MK17 EVO is SCUBAPRO's premium high performance balanced diaphragm first stage. Engineered specifically for cold water and harsh environments, its internal components are completely sealed off from the elements so neither water nor pollution can get inside the chrome-plated marine grade brass body to foul the mechanism.

This new version is more compact than its predecessor yet delivers better breathing performance. Its improved internal design allows more airflow from the LP ports which have also been configured for optimum hose routing.

First Stage:


Air balanced diaphragm delivers constant and effortless airflow unaffected by depth, tank pressure, or breathing rate.
Environmentally sealed system prevents water and pollutants from fouling the inner mechanism.
More compact design features a smaller dry ambient pressure chamber and spring, although the bulletproof inner parts remain the same.
Dry ambient pressure chamber increases freezing resistance, ensuring consistent airflow in the coldest conditions.
Substantial increase in airflow -- 6900 l/min versus 6500 l/min - includes improved balance of air supply pressure.
Two high pressure and four high-flow ports maximize air delivery and hose routing options.
High-flow performance is available from all four LP ports which are configured for optimum hose routing.
External intermediate pressure adjustment enables technicians to fine-tune performance quickly and easily.
Available in a 3364psi/232bar INT configuration.
Weight: INT 232 - 30oz/850g.
Airflow at 2900psi/200bar: 6900 l/ min - 230 SCFM.
Intermediate pressure (psi/bar): 130-142/9.0-9.8.


Second Stage:


Air balanced valve.
Diver-adjustable inhalation effort
Diver-adjustable Venturi-Initiated Vacuum Assist (VIVA)
Super-flow hose
High comfort orthodontic mouthpiece
Full metal valve housing
Weight: 193g / 6.8oz
Air flow at 200 bar: 1850 l/min - 66 SCFM
Maximum low pressure: 14 bar / 203 psi
Latest posts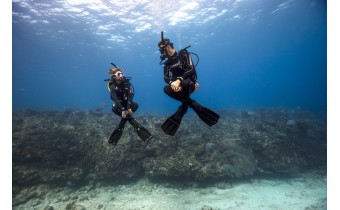 If you want to explore the mysteries of the underwater world and get your PADI...
Read More
View Blog