SC21090000
AIR 2 BC OCTOPUS 5th GENERATION
Producto fuera de stock. Consultar en los próximos: días de entrega
Description:
SCUBAPRO introduced the octo/inflator concept to diving almost thirty years ago with the introduction of the original AIR2 (short for Alternate Inflator Reg). Now in its 5th generation, it offers even more in both performance and ease of use.
As a backup reg the AIR2 delivers air as smoothly as most primary second stages. The flexible purge cover is large and easy to locate, allowing for quick clearing when it comes time to take a breath. In addition, a new dive/pre-dive switch lets you detune the AIR2 when it's not being used, eliminating free flows. And unlike traditional dangling octos, the AIR2 is always within easy reach if needed.
As a BC power inflator the AIR2 is very easy to use. It fits comfortably in the hand, and the large inflate and deflate buttons can be differentiated by both color and touch, improving safety on both ascents and descents. The power inflate button features a very light lever so it's easy to initiate inflation. Also, both inflate and deflate buttons are positioned on top of the housing, making them easier to operate when breathing off the unit without having to change hand positions.
CE certified EN250 (A> 50°F warm water test controls) as a second stage regulator.
Latest posts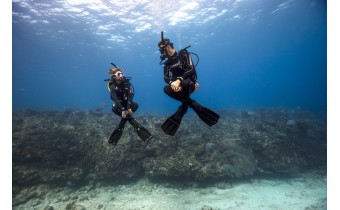 If you want to explore the mysteries of the underwater world and get your PADI...
Read More
View Blog