CREADS340010
EVO BIG EYES MASK CRYSTAL
Producto fuera de stock. Consultar en los próximos: días de entrega
Description:

Not only has this new Cressi Crystal Silicone been chosen, with its exceptional softness and comfort, but the entire design of the skirt has followed new rules which allow a point of contact between the mask and the face that has a very open angle.

The mask rests on the face with unprecedented comfort and does not leave any marks on the skin, even after extended use.
Naturally, to obtain such a result the entire structure of the skirt is differentiated, with internal ribs that stiffen the parts of the mask that are most stressed.

The ultimate in comfort and performance, the Big Eyes Evolution Crystal combines the best of Cressi technologies.
Raked lenses, with Cressi's inverted tear-drop shape, are placed close to the eyes for an exceptional field of view, and the Crystal Silicone skirt delivers excellent light transmission while resisting discoloration and fogging.The Crystal Silicone skirt also seals gently against the skin with a very open angle that accommodates a wide range of facial shapes.

Features:


Raked lenses provide excellent field-of-view
Inverted tear-drop lenses improve downward visibility for managing BC-mounted gear
Low internal volume allows for effortless clearing
Crystal Silicone resists aging and prevents skirt discoloration and fogging
Ribbed skirt design provides support where needed for a soft, flexible fit
Micrometric adjustable buckles allow precise headband adjustments
Swiveling buckles connect to flexible, indestructible elastomer tabs for total durability and comfort
Latest posts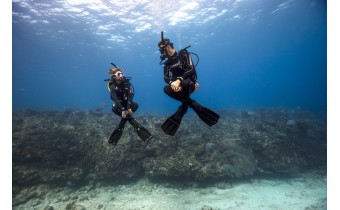 If you want to explore the mysteries of the underwater world and get your PADI...
Read More
View Blog