BRCRCUBRC555006
DIVECUTTER LINE CUTTER ZIRCONIA
Producto fuera de stock. Consultar en los próximos: días de entrega
Data sheet
KNIVES AND CUTTERS - KNIVES AND CUTTERS

Cutters

SUMMER SALES

CUTTING
Description:
DIVECUTTER was created by Cressi in 2001, it is considered the first high-end diving line cutter, safe, ergonomic and surprisingly effective. Without a doubt it is the most imitated rope cutter both as a set and as a concept.
It is a perfect tool to cut with maximum effectiveness and, in an intuitive way, lines, nets and ropes up to 10 mm in diameter! in a single operation and without the need for tension, as with a knife.
Its structure is a 12x4 cm sheet with an ergonomic design made of anodized aluminum, in which an easily replaceable Zirconia (Zirconium Oxide - ZrO2) blade is inserted.
Compared to other ceramic materials, Zirconium Oxide stands out for its great flexural strength, hardness and extremely high edge strength, which keeps its cutting capacity intact during many uses of the same blade. This material is replacing other metal cutting elements in the precision industry because it provides a precise cut, without vibrations and requires practically no maintenance. In addition, unlike metal blades, it is absolutely unalterable in a marine environment without any maintenance.
The sheath is designed to be used in any way on the belt, BCD straps, on hoses or on the inflator hose using clamps (included).
The extraction of the Divecutter is very fast since it is based on a very simplified Velcro© system that requires one single movement to find the Divecutter in our hand. In case the Velcro © is accidentally detached, the pressure of the cover is enough to prevent its loss.
Latest posts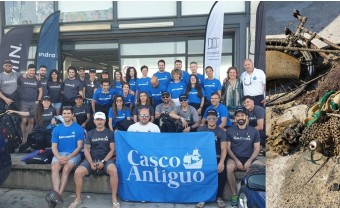 As part of its commitment to the care and respect for the sea, Casco Antiguo has...
Read More
View Blog