TKOR0101NERD2SASHE
NERD 2 SA COMPUTER (OC)
Producto fuera de stock. Consultar en los próximos: días de entrega
WARNING:
Due to EU regulation, Shearwater computers come with the AI function locked. To unlock this function, the user must connect to Shearwater Cloud using the bluetooth feature. A instruction card is included in the box to perform this operation.  
Description:

Rebreather tested. Recreational requested.

The world's first near eye remote display for scuba divers has been redesigned for enhanced flexibility and reliability. In addition to the DiveCAN and Fischer versions, OC divers can now experience the freedom the NERD 2 has to offer. The universal regulator mount allows divers to secure the NERD 2 within their line of sight and dive with the security of knowing their crucial dive information with a glance of the eye.

From the combination of the Micro LCD display and the magnifying lens, the data on the NERD 2 appears as if you were looking at a 25 inch TV 12 feet away.

NERD 2 Mount Options:

An important and unique feature of the NERD 2 dive computer is that it requires a mount to keep it properly positioned. The NERD 2 is packaged with either a mount option for a closed circuit rebreather or open circuit regulator.

The same 2 hole pattern that was part of the NERD 1 is built into bottom of all NERD 2 dive computers. This will allow compatibility with NERD 1 original mounts. It will also allow for the option of custom made mounts that could be created for masks, helmets, or full face masks. Additional details for this can be found in the NERD 2 manual.

The SA Model comes with an OC regulator mount, suitable with most regulators.

Rechargeable Lithium Ion Battery:

The NERD 2 connects to a charging clip which snaps on the back of the computer. The charge clip is splash proof
The charging clip connects to any USB cable.
The USB cable can connect to any USB port or the power bank supplied by Shearwater. The power bank can provide 5 full charges to the NERD 2.

Multiple Diving Modes:


OC Recreational:
Three gas nitrox computer with features for the serious recreational diving enthusiast. Includes adaptive safety stop and NDL bar graph
OC Technical:
5 OC gases Trimix enabled by default
CC/BO (Closed Circuit/Bailout):
5 OC/5 CC gases. Trimix enabled. Constant PO2 for closed circuit
Digital Compass:
Optional 3 axis, tilt compensated, digital compass. Available in all modes
Gauge:
Depth, time, resettable stop watch function. Full dive logging

Simple and Powerful:

Line-Of-Sight Information: All of the information you need at a glance.

Custom Design: The removal of the brainbox makes the NERD 2 the smallest Shearwater dive computer to date.

Rechargeable Battery:
With a minimum of 18 dive hours on a full charge with medium brightness (recharge time 4 hours).

The typical battery life is 5 years or 500 charge cycles.

The battery can be replaced at authorized service centers. The cost of replacement is $100 CAD + shipping.

The turn around time for replacement is 5 business days after receipt of payment, excluding shipping time. The battery replacement includes inspection, functional testing and pressure testing.

If the battery is not meeting performance specifications within the 2-year warranty period it will be replaced free of charge. Variations to battery lifespan can be expected due to operating at extremes of the rated specification, such as high environmental temperatures or repeatedly fully discharging the battery.

Two Button Interface: Simple to navigate, state-aware menu structure.

Digital Compass: Optional 3 Axis, tilt compensated, digital compass. Available in all modes.

AI Functionality: Capable of displaying tank pressure in all modes (transmitter sold separately).

Bluetooth Integration: This enables communication with Mac, Windows, iOS, and Android with lower power consumption. This allows connection to Shearwater Cloud.

Mount Options: The 2 hole patterns allows for custom mount designs and compatibility with NERD 1 mounts.

Technical Specs:


Modes:
     - OC Rec: 3 gas nitrox recreational computer
     - OC Tec: Multi gas, trimix decompression computer
     - CC INT: Closed circuit fixed PPO2
     - Gauge: Bottom timer with stop watch and dive logging
Decompression Computer
Open Circuit
Trimix / Nitrox / Air Compatible
Bühlmann Gradient Factors
Rebreather
Closed Circuit Fixed PPO2
Gauge Mode
3 axis, tilt compensated digital compass
Bluetooth Smart
Upgradeable Firmware
Air Integration (transmitter sold separately)
Number of Transmitters: 1 or 2
Screen Resolution: 320x240
Display Type: QVGA
Battery Type: Rechargeable Li-Ion Battery
Battery Life: 18 Hours (Medium Brightness)
Battery Replacement: 5 Years (or 500 charge cycles)
Number of Gases: 5 OC / 5 CC
Dive Log: 1,000 Hours
Dimensions:
     - Computer: (WxDxH) 33mm x 85.81mm x 44mm / - Weight: 74g
     - Ballistic Nylon Case: (WxDxH) 240mm x 240mm x 60mm / Weight 313g
Latest posts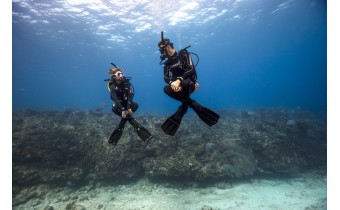 If you want to explore the mysteries of the underwater world and get your PADI...
Read More
View Blog