CREDIC740602
TRAVELIGHT BC BLUE
Producto fuera de stock. Consultar en los próximos: días de entrega
Data sheet
BCDS - BCDS

RECREATIONAL DIVING

BCDS - BCDS

TRAVEL

WEIGHT

WEIGHT SYSTEM INCLUDED

FATHER´S DAY

BCDS
Specific References
ean13

8022983053639
- ALSO AVAILABLE IN PACK -
Description:

This jacket has been specifically designed for those who travel by plane as it is the result of painstaking research on the most suitable materials for reducing weight to a minimum.

It has exactly the same characteristics as the Flex in the sea model but with the addition of the integrated Lock Aid weight system.

Nothing has been left to chance in the search to achieve a record weight, beginning with the choice of the material, a 210 denier nylon which is light yet very strong.

The back is soft and padded and has a rear rubber area with a strong grip and a double strap to safely block the tank.

Two generous zip up pockets allow stowing of even bulky accessories.

Two rear weight carrying pockets

The control for the rear release valve has been placed at the front, on the lower right hand side of the jacket.

All the D-rings are made from a light alloy.

Travelight can be folded up in just a few seconds and fastened with a special retractable strap so that it can be stowed easily in its own carrying bag, which has a shoulder strap.

Travelight's very light structure and its anatomical shape make it a very tight-fitting and streamlined jacket once underwater and it offers very little resistance to forward movement.

Characteristics:


210 denier nylon
2 rear weight carrying pockets
2 zip up pockets for accessories
Soft, padded back, with double strap for fixing the tank
D-rings and rings in light alloy.
Three discharge and pressure valves
Rear release valve with control brought to the front
FAST system for folding and compacting the BC
Velcro strap, closed in a lower zip up pocket for packing the BC.
Sizes from XS to XL
Buoyancy kg: 6.1 kg (XS), 8.2 kg (S), 9.2 kg (M), 13.3 kg (L) 16.3 kg (XL)
Buoyancy in Newton: 60 N (XS), 80 N 8S), 90 N (M), 130 N (L), 160 N (XL)
Buoyancy Lbs: 13.5 (XS), 18.0 Lbs (S), 20.2 Lbs (M), 29.2 Lbs (L), 36.0 Lbs (XL)
Weight: 2.3 kg (XS), 2.4 kg (S), 2.5 kg (M), 2,6 kg (L) 2.8 kg (XL)
Latest posts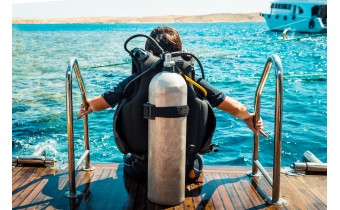 Discovering the treasures that the underwater depth hides and being able to observe...
Read More
View Blog