BRCRBCDIC790000
AQUAWING BC
Producto fuera de stock. Consultar en los próximos: días de entrega
Data sheet
BCDS - BCDS

RECREATIONAL DIVING

BCDS - BCDS

WINGS

BCDS - GENDER

UNISEX

WEIGHT

NO WEIGHT SYSTEM

SUMMER SALES

BCDS
Description:
AQUAWING is an interesting wing proposal with a robust construction but light at the same time (2,90 kg) and with low transport volume, all the advantages of the wing system but with interesting contributions proposed by Cressi in terms of harness systems.
Features:
Inflatable "donut" type chamber in one size (13.3 kg of ascent capacity), designed to ensure perfect buoyancy and stability.
Wing fabric Cordura 1500 D with internal chamber in Nylon 210 D with internal polyurethane injection.
Patented M.A.S. (Modular Adjustment System) harness system: A unique 50 mm webbing runs around the shoulders, underarms and waist and allows the wing to be adjusted and loosened comfortably and quickly in any situation and guarantees absolute hold during use. Its adjustment capacity makes it possible to unify the sizing to a single size.
Its patterning and arrangement of straps make it 100% unisex with complete freedom of the chest area and harness completely independent of the bag, provides absolute stability of the wing on the diver and completely frees the chest, armpit and abdominal area from oppression due to the expansion of the bag towards the dorsal area and around the tank. 
Shoulder straps and plate cover with comfortable padded lining made of a closed cell material that prevents the accumulation of water or air and therefore does not affect the inherent buoyancy of the BCD and facilitates quick drying. Indispensable especially with lightweight suits.
Anodized light alloy plate reduces the overall weight of the set (2.9 kg in total) while ensuring stability and safety in use. Machined eyelets for girth passage countersunk at 45°. Integrated ballast on the back of the plate will be available soon. 
Two weight holder compartments anchored to the bottle girth.
50 mm rings.
Integrated thermoplastic rubber tank support area ensures perfect positioning and stability of the tank.
Rear compartment designed to house the marker buoy.    
Direct System Inflator: Metal filter at the air inlet under the stem and cylindrical filter around the valve. Very robust body and attractive design. Recalibrated inflation speed, 50% higher. Anti-sand design with minimized mouth inflator nozzle. Pusher with wide clearances with respect to its seat to avoid the blocking action of sand grains. Drainage pusher with external washer seal. New, very resistant and progressive curvature of the new hose. Includes hose-guide clamp. +Info
Low profile top drain valve with non-return membrane that prevents accidental water entry.
Product of the Specialized Line, available only in specialized stores. 
Summary of technical features:
Tightening strap to the faucet.
Stainless steel D-rings
M.A.S. (Modular Adjustment System)
Chamber lining: Cordura 1500 D
Inner chamber Nylon 210 D with internal polyurethane lamination
One size (XS / XL)
Longitudinal carrying handle
2 back weight pockets on the bottle strap
Harness 100% independent of the bag
Climbing capacity (measured according to CE standards): 13.3 NW / 29.3 L
Weight in kg: Total weight 2.90 kg - 6.39 L
Latest posts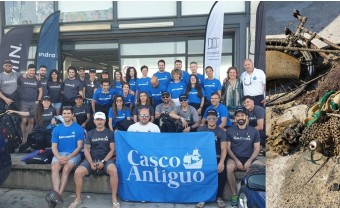 As part of its commitment to the care and respect for the sea, Casco Antiguo has...
Read More
View Blog