PSSBBLLEGEND120N
APNEA LEGEND DRY 120 BAG
Producto fuera de stock. Consultar en los próximos: días de entrega
Data sheet
BAGS AND BOXES

BAGS

FEATURES

EQUIPMENT

FEATURES

DRY

FEATURES

SPEARFISHING

MATERIAL

PVC

FATHER´S DAY

BAGS & CASES

SUBACQUA

BAGS & CASES

CHECK YOUR LUGGAGE

BAGS
Description:

The Subacqua Apnea Legend Dry 120 bag is a large capacity bag, aimed not only for spearfishing and apneists who need great length for their fins, but also for all divers who wish to carry their complete diving gear in a container that does not fill so much Volume as the rigid boxes.

With waterproof seal, makes the equipment does not splash or wet after the dive; but also allows to carry accessories that we do not want to get wet like in water sports, boats ... etc.
It has a drain plug to be able to empty the water that may have drained inside.
The bottom is reinforced to prevent damage if dragged and offers a anti-slip grip degree .

The Apnea Legend Dry 120 bag is part of the Legend Bags series, with a strong PVC exterior coating and a capacity of 120 liters. The Legend bag family completes with a backpack bag (sold separately) of 85 liters capacity.

Features:


High capacity on rectangular bag
Waterproof colsure: zip closure with protective flap
Material: Rugged PVC
Adjustable straps
Bottom handle to handle it comfortably
Volume Approx: 120 l
Lower drain plug
Reinforced non-skid bottom
Estimated weight: 2 kg
Latest posts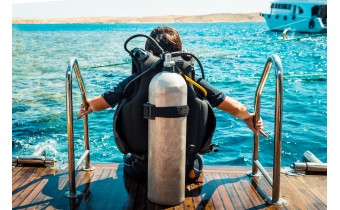 Discovering the treasures that the underwater depth hides and being able to observe...
Read More
View Blog