FTTDILHELIOS12000
HELIOS 12000 VIDEO LIGHT
Producto fuera de stock. Consultar en los próximos: días de entrega
- ALSO AVAILABLE IN PACK -
Description:
Very high performance underwater video&photo led light, with high intensity LED and with 12000 lumens power in a compact size.
One of the most complete lights on the market with all types of light to meet the diver's needs. Specially designed for photography and video.
YS arm bracket and ball base included, which can be attached to ball and swivel arm systems for versatility of positions.
With a 120-degree beam opening thanks to its domed front, it is the ideal spotlight for video in very dark places, especially for illuminating caves.
Single push button with indicator light that shows by color the capacity of the batteries, has 6 interchangeable powers at each press: 100%-80%-60%-40%-20%-8% allowing to adapt the intensity to the needs of each moment.
With Lithium-Ion batteries included and grouped in a single pack 6800mAh. Charger and a practical canvas case to carry it anywhere.
Technical Specifications:
Light output: 12000 Lm in white light with 6 adjustable power levels 100%-80%-60%-40%-20%-8%.
Led CRI:Ra average life <50000 hours
Color temperature: 5600 K
Opening angle: <120 degrees underwater
Specific battery: 6800 mAh
Approximate charging time: 2.5 hours.
Battery life: White 60 min at 100
Maximum depth: 100 m
Dimensions: 7.1 cm maximum diameter, 20.9 cm length.
Weight: 900 gr. on land/400 400gr. in the water (batteries included)
Construction: Highly durable aircraft-grade anodized aluminum, glass lens and plastic bracket.
Neoprene dome protector.
Rubber contact protector for contacts during charging
Replacement o-rings with extractor
YS base and ball with allen key
Semi-rigid outer cordura case.
Product warranty:
The product is warranted for 2 years against any manufacturing defects.
Latest posts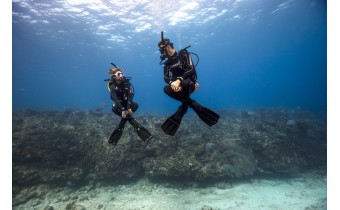 If you want to explore the mysteries of the underwater world and get your PADI...
Read More
View Blog