CREABH108538
GARA TEAM LD CARBON FIN 2.0
Producto fuera de stock. Consultar en los próximos: días de entrega
Description:
New version of GARA CARBON CRESSI TEAM evolved and intensively tested by the Cressi Team, which compared to the previous version increases the blade surface (12% greater), the length (4 cm greater), and adopts a new progressive angle of 29º and new distribution of carbon panels and reinforcement zones. A fin that has been unanimously acclaimed by all types of sportsmen and that allows a very precise adaptation to all types of user profiles and fishing action with its 10 possible combinations.
Features:
Five levels of hardness: XLD, LD, MD, HF, XHF with an average difference of 8% between one version and the next. These five versions allow a radical advantage of adaptation to different types of users and especially to different systems and circumstances of use.
Shoehorn-blade socket area (particularly delicate in terms of fracture possibilities) with various technologies to minimize risks. Hole for the assembly screws made with molds, not machined, to minimize the possibility of breakage at this point. Progressive wedge-blade angulation zone.
Variable profile from a maximum thickness of 2.5 mm in the area where the shoe fits into the socket up to 1 mm at the tip with 7 different phases.
100% industrial construction by high temperature vacuum infusion to eliminate any possibility of microbubbles in the structure and obtain a very compact and reactive blade.
Combination of bi-directional bending carbon blades with high stress resistance blades with unidirectional bending carbon.
Exclusive pure carbon made with 12,000 strands (12 k). This carbon allows for an extremely strong construction with a minimum number of blades due to its high density. 
Progressive 29º blade angle (10 cm arc). The angulation has been carefully studied so that the position of the blade is an extension of the tibia without the need to force the instep. This feature relaxes various muscles of the leg and foot during the flutter with a significant increase in comfort and reduction of fatigue and lactate accumulation.
Mirror gloss mold finish on upper area to minimize the need for resin thickness. Rear area of the blade with a completely virgin matte finish for maximum camouflage capability during stalking or stalking.
One-piece TPU profiles with rib guides, lateral blade protection and anti-skid flaps.
Camou "rape" cosmetics integrated into the blade without adding additional thickness or affecting the performance of the carbon.
Foot pocket in two versions: Modular, traditional with long horns and Turbo with short horns. The blade is calibrated to work perfectly with both shims, with an approximate difference in total stiffness of 10% and different performances detailed in the comparison chart.
Version and Target:
LD
Camou monkfish in greenish tones with silver-turquoise logo.
It requires 1,587 kg of load to be fully folded (with Gara Modular foot pocket).
This version is designed for users who fish for long periods of time in waters without big breakers and for descents to medium or medium-high depths at a high rate.
Perfect for constant weight fishing if the user also performs long surface trips.
Foot pocket:
Bi-material foot pocket, specially calibrated to maximize carbon performance and foot-pocket-blade energy transmission. The ribs reduce the hardness of the mixture by 20% compared to the previous version and the soft rubber area of the foot pocket has a firmer composition to improve energy transmission. The new foot pocket combines two materials, a 70º shore thermoplastic rubber, flexible but inelastic and very resistant, applied to the ribs, to the entire sole of the foot pocket and to the exclusive support band on the instep to ensure immediate transmission of effort without dissipating it in rubbery compositions.
The instep incorporates a 2 cm wide "Self adjusting" band in the center, which allows a slight expansion (from 2 to 4 mm depending on size) to adapt to people with high insteps or in case of using thick booties. The expansion has been carefully calibrated so as not to impair energy transmission.
The volume of the foot pocket is sized after in-depth anatomical studies, so that the volumes are proportional to the widening effect caused by the sock depending on the size of the foot. It does not follow a fixed size-to-size ratio since proportionally a small foot "fattens" much more than a large one when wearing booties.
Traditional version with long horns and Turbo version with short horns.
Sizes: 36/37 - 38/39 - 40/41 - 42/43 - 44/45 - 46/47
Latest posts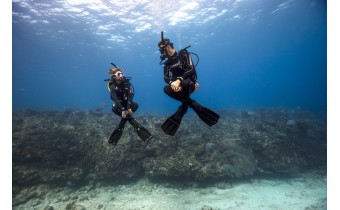 If you want to explore the mysteries of the underwater world and get your PADI...
Read More
View Blog