SBMP100003QYS
FIFISH V6 EXPERT M200
Producto fuera de stock. Consultar en los próximos: días de entrega
TECHNICAL SERVICE IN SPAIN 
Technical service only available for units sold by Casco Antiguo.

FIFISH V6 EXPERT is a professional-class underwater robot and multi-capable tool for enhancing your underwater missions and operations. The V6 EXPERT can be equipped with an onshore power supply system that delivers optimal diving performance and operating time.
Main Features
12 Megapixel Resolution 
166° FOV Wide-Angle Lens 
4K UHD Camera 
6000 Lumen LED Lights
DNG (RAW) Format Support
240 FPS Slo-Mo Capture 
Secure SD Card Slot
360° Omnidirectional Movement 
Posture Lock 
Depth Lock 
3 Knots (1.5m/s) 
Q-IF Multi-Tool Extension Interface 
Secure & Fast Charging 
Onshore Power Supply System(Optional)
Multi-Tool Extensions,Unlimited Possibilities (Optionals)
FIFISH V6 EXPERT's interface allows the efficient integration of a wide range of professional-level and industry-specific tools to tackle different scenarios and tasks.
INSPECTION TOOLS
Q-Camera: 
2D-Image Sonar
HDMI Box 2.0
Controller Sun Hood
Sports Camera mount
External Lighting Mount
Remote control System:
MEASUREMENT TOOLS
Compass ruler
Laser scaler
Distance meter
Altimeter
NAVIGATION TOOLS
UQPS- Underwater Quick Position System
DVL Station Lock
USBL
MANIPULATOR TOOLS
Robotic Arm
Parallel Griper
Retrieval Hook
Mort Remover
Underwater Dozer
 Fishing Net
WATER QUALITY TOOLS
Water sampler (100 ml)
Water sampler (500 ml)
Disolved Oxygen sensor
Salinity sensor
Turbidity sensor
pH sensor
Mud sampler
Long Lasting Power, High Performance & Reliability:
Seamless and quick deployment of energy packs for smooth, lengthy, and uninterrupted diving sessions.
Upgraded Build & Performance 
Protection against corrosion and sand
Complete freedom of movement in the aquatic world
Against the flow of 1m/s water currents, the ROV can still maintain a diving time of ~1.5 hours.
Streamlined, Robust & Reliable Design:
360° protection of core components
Rugged and flexible Kevlar cable for fast deployment and recovery
VR Intelligent Head Tracking:
FIFISH V6 EXPERT applies unique sensory controls that provide the user a truly immersive underwater experience from the ROV's first-person perspective. Through the smart VR goggles, take the QYSEA patented full 360° directional and posture control of the V6 EXPERT simply by rotating the head. This intelligent feature is accurate, easy to use, and a breakthrough in underwater exploration.
4K Low Noise Shooting for Cinematic Clarity:
The FIFISH V6 EXPERT comes equipped with a UHD 4K underwater camera lens, along with a 166° ultra-wide field of view, 12-megapixel resolution, 240 FPS slow-motion filming capabilities, and much more. V6 EXPERT's vision enhancement algorithms bring out the vibrancy of the underwater environment, so you can capture every detail needed in your aquatic operations and missions.
166° FOV Lens 
240FP SloMo Capture 
4K UHD Video Quality 
DNG (RAW) Format Support 
12 Megapixel Resolution 
F/2.5 Aperture
Enhanced Lighting for Optimal Clarity
The FIFISH V6 EXPERT comes equipped with a pair of ultra-bright 6000 lumen LED lights alongside its 4K UHD camera, delivering brilliant, vivid, and vibrant images and footage within even the darkest spaces.: 
Micro SD Card,Fast Transfer & Storage
The SD card can be taken out of the V6 EXPERT for data exporting with ease. The ROV comes equipped with a 128GB card for ample space and storage of high-definition films and images.
Powerful Battery, Quick Charge Enabled
The V6 EXPERT has a 14400mAh super-capacity battery the provides long-lasting battery life, quick charging capabilities, as well as multiple safety and security mechanisms.
Q-CHARGE: 90% Capacity in 1 Hour
Light, Portable & Worry Free
FIFISH V6 EXPERT helps your underwater operations be organised and worry-free. Its compactness allows for easy transportation to wherever your missions take you, and its efficient power system delivers you continuous and uninterupped diving sessions.
Technical Features:
ROV
Dimension:383 mm*331 mm*143 mm (15 in*13 in*5 5/8 in)
Weight: 4.6 kg (8 5/8 lbs)
Thrusters: 6 (4*Vector + 2*Horizontal)
Maneuverability: 6 DOF (Degree of Freedom):
Moving: left & right, up & down, forward & backward, Rotation: 360° pitch, 360° roll, 360° yaw
Posture Lock™ [1]:Able to lock the ± 0.1° pitch angle or ± 0.1° roll angle and moving in any direction (See note 1)
Hovering Accuracy: Able to keep the ROV suspending in ± 1 cm
Speed: Maximum 3 knots (1.5 m/s) in still water
Depth Rating: 100 m (328 ft)
Operating Temperature Range[2]

: -10 °C ~ 60 °C (14 °F ~ 140 °F)
Battery: Rated Capacity

9000 mAh / 156 Wh
REMOTE CONTROLLER:
Wireless: Wi-Fi supported
Battery Life: Up to 4 hours
Copy

Micro SD card Slot & Download: Format in FAT32 (no greater than 32GB) | Format in EXFAT (no greater than 64GB)
THETHER:
Length: Standard 200 m on Spool - Customized Accepted
Breaking Force: 80 kgf
APP:
System: iOS 10.0.0 or later | Compatible with iPhone 6S or later | Android 5.0 or later | Compatible with Samsung S7 or later, Huawei Mate 9 or later, Mi Mix 2 or later
LIVE-Streaming: 720P, 25/30fps | 480P, 25/30fps
Stream User NO.: Max 2 Devices
CAMERA:
Sensor: 1/2.3" SONY CMOS | Effective Pixels: 12MP | ISO Range

100-6400 in Auto / Manual
Lens: Field of View 166° | Aperture f/2.5 | Minimum Focusing Distance 0.4 m
Electronic: 5~1/5000 second
Shutter Speed: Burst shooting 1 / 3 / 5 / 7 / 10 frames
White Balance: 2500K ~ 8000K (WB) Auto / Manual
Exposure Compensation: - 3 EV ~ + 3 EV
Photo Resolution: 4:3: 4000 x 3000
Photo Format: JPEG, DNG
Video Resolution: 4K UHD: 25/30 fps | 1080P FHD: 25/30/50/60/100/120 fps | 720P HD: 25/30/50/60/100/120/200/240 fps
Video Format: MPEG4- AVC/H.264, HEVC/H.265
Stabilization: EIS (Electronic Image Stabilization)
Internal Storage

: 128 GB standard
LED BEAMS:
Brightness: 6000 lumen
CCT: 5500 K (Correlated Color Temperature)
Beam Angle: 120°
Dimming: 3
CHARGER AC/ADAPTER:
ROV: Input: 100-240 V, 50/60 Hz,1.3 A MAX | Output: 12.9 V ⎓ 6A
RC: Input: 100-240 V, 50/60 Hz,0.5 A MAX | Output: 5 V ⎓ 3A
Inside the Box:
1 x Fifish V6 Expert
1 x Industrial case
1 x 100 m Tether & Spool
1 x Remote Controller
1 x VR Googles
2 x Spare propellers
1 x ROV Charger
1 x RC Charger
Latest posts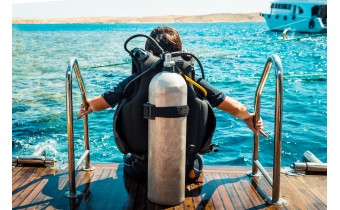 Discovering the treasures that the underwater depth hides and being able to observe...
Read More
View Blog