TKIL010116714LFM
NW7 + ACCU 12.2 LIGHT
Producto fuera de stock. Consultar en los próximos: días de entrega
NW7 Head:


Variable angle of light: Dual channel driver and two different LED modules give variable angle of light. In one torch there are two independent LEDs modules. Both channels have different angle of light beam.
No more rotary elements. Piezo switch works at any depth: Electronic piezo switch combined with microprocessor electronic control. Piezo swich allows to swich on/off and switch between the modes.
Two different sources of light: One group of four XPE II Leds and one group of three XML II Leds give two modes of light. Four XPE II give very narrow and cold beam of light which is perfect for underwater communication. Three XML II Leds with very wide optics are perfect for wide lighting. Working both together or separately. Perfect underwater communication and additionally nice lighting.
Short distance from top of hand: The lowest possible position makes the head very comfortable to hold.
Small dimension of head: Small size and weight of the head makes this model a very modern solution in underwater lighting.

NW7 Head Technical Features:


Purpose: lighting / communication / video
Material: anodised aluminium
Max operating depth: 100m
Number of LEDs: 7
LED type: 4 x XPE / 3 x XML
Power: 18 W (XPE) / 30 W (XML) / 48 W (XPE+XML)
Lumen output: max 4800
Light angle: 6/70 degrees
Light temperature: >7000K
Light modes: 100%
Switch type: Press Piezo
Max dimensions: 57mm (length) 55-80mm (diameter)
Cable: Heavy Duty / 4-wire / 110cm
Weight on the surface: 735 g
Weight Underwater: 690 g
Burning Time NW7 + Accu 12.2: 9 h (4 x XPE) / 5 h (3 x XML) / 3 h ( 4 x XPE + 3 x XML)
Accu 12.2 Ah Battery Set:


RCA connection: ACCU is equipped with one RCA connection point – used both for attaching one of light-for-me light heads and charging.
Simplicity: Maintenance of the ACCU is simple – clean and dry the RCA connection port, grease the oring inside the port if necessary and store it in a cool and dry place.
Durability: ACCU is made from aluminum and delrin. RCA port – stainless steel. This makes it able to withstand the usual diving conditions pre-, during and post-dive.

Accu 12.2 Ah Battery set Technical Features:


To be used with: 3XML Alexandra / 4TEC /7XPE / NW7 / TEK-ONE
Material: anodised aluminium and POM
Max operating depth: 100m
Battery pack type: Lithium-Ion
Battery pack voltage: 14.4V
Battery pack capacity: 12.2 Ah
Charger: microprocessor / 2.8A
Charging time: up to 4 h
Number of RCA ports: 2
Dimensions: 250 mm (length) x 67mm (diameter)
Weight on the surface: 1.73 kg
Weight underwater: 1.43 kg
Certification: UN38.3 and CE approved
Latest posts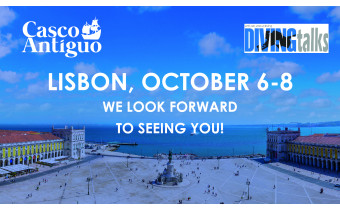 The International Diving Congress, Diving Talks, will be held from October 6th to...
Read More
View Blog