TKIL01011013LFM
3XML ALEXANDRA + ACCU 8.6 LIGHT
Producto fuera de stock. Consultar en los próximos: días de entrega
Data sheet
LIGHTING

PRIMARY

FEATURES

RECHARGEABLE BATTERIES

FEATURES

POWER SWITCH

FEATURES

CANISTER LIGHTS

LUMENS

From 1500 to 5000

WOMENS WEEK

LIGHTING
3XML Alexandra Head:


Light source: Three XML II with total lumen output of 3600 and dedicated 13-degree optics. Additional red signalling diode. Three modes of light. Light head set low on the goodman handle.
Piezo switch: No more rotary or magnetic elements, piezo switch does not influence compass readings. Working at any depth. Protected against accidental switch. Change light modes with one press of the switch.
Housing: Made from anodised aluminum. Small and compact, but strong and durable. Double sealed cable entry with stainless steel spring gland. Goodman handle with additional holes that make it lighter and allow for the head to be attach to the harness in arious ways.
Aim – recreation: 3XML Alexandra head is great for diving trips – compact and light. Its tech parameters make it an ideal light for good visibility waters.

3XML Alexandra Head Technical Features:


Purpose: lighting / communication
Material: anodised aluminium
Max operating depth: 100m
Number of LEDs: 3
LED type: XML II
Power: 30W
Lumen output: max 3600
Light angle: 13 degrees
Light temperature: 6800K
Light modes: 10% / 50% / 100%
Switch type: Press Piezo
Max dimensions: 56mm (length) 40-52mm (diameter)
Cable: Heavy Duty / 4-wire / 110cm
Weight on the surface: 585g
Estimated Burning Time with Accu 8.6 Battery Set: 4 h (+/- 15%)

Accu 8.6 Ah Battery Set:


Size: ACCU 8.6 Ah is small and compact – great for recreational dives and for dives in remote locations when baggage weight is restricted. It comes equipped with high quality CE and UN 38.3 certified Li-Ion battery pack.
RCA connection: ACCU is equipped with one RCA connection point – used both for attaching one of light-for-me light heads and charging.
Simplicity: Maintenance of the ACCU is simple – clean and dry the RCA connection port, grease the oring inside the port if necessary and store it in a cool and dry place.
Durability: ACCU is made from aluminum and delrin. RCA port – stainless steel. This makes it able to withstand the usual diving conditions pre-, during and post-dive.

Accu 8.6 Ah Battery set Technical Features:


To be used with: 3XML Alexandra / 4TEC /7XPE / NW7 / TEK-ONE
Material: anodised aluminium and POM
Max operating depth: 100m
Battery pack type: Lithium-Ion
Battery pack voltage: 14.4V
Battery pack capacity: 8.6 Ah
Charger: microprocessor / 2.8A
Charging time: up to 2.5 h
Number of RCA ports: 1
Dimensions: 185mm (length) x 67mm (diameter)
Weight on the surface: 1.2 kg
Certification: UN38.3 and CE approved
Latest posts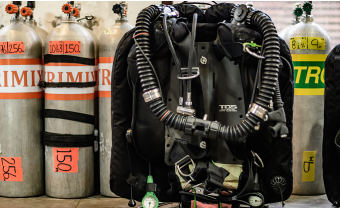 Technical diving is characterized by the depth,...
Read More
View Blog