TKCU0101UEIKYDEXTDS
GR UEI KNIFE FLAT TIP + KYDEX SEATH
Producto fuera de stock. Consultar en los próximos: días de entrega
Description:

The TDS GR UEI knife is a diving knife built with the robustness necessary for the most demanding jobs and respond in all circumstances in which it is necessary to use. Extended in military use, it has a similar design to used ones by professional divers, but with a 10 cm blade length that makes it more manageable and with the flat tip.

This version includes the Kydex case

The robust handle has dimensions that allows to make much more force than  standard knives much smaller in size, and has a non-slip shape for an optimal grip even with gloves and to be able to apply all the desired force without slipping.

The reinforced steel blade has a cutting edge with serrated teeth, which facilitates the cutting of almost types of material and makes the cutting action more effective. The length of the blade is 10 cm, making the knife as a whole very manageable. The flat tip avoids possible unexpected punctures, besides being able to be used as an emergency screwdriver.
Kydex Seath:
The Kydex sheath is specially designed for the TDS GR UEI short knife flat tip. Is named by the compound is manufactured: Kydex is a type of thermoplastic acrylic based on polyvinyl chloride, and has a wide variety of applications including aircraft bulkheads, gun cases, cases and pods.

Therefore, a design with a latest generation material, also used in military applications thanks to its robustness

Includes a series of eyelets to place it by means of flanges, elastic bungees or carabiners, in the area that best suits and adapt it to the diver needs and configuration.
Latest posts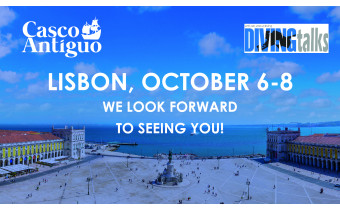 The International Diving Congress, Diving Talks, will be held from October 6th to...
Read More
View Blog