TKBC0101S2CS2XD
STEALTH 2.0 CLASSIC SIDEMOUNT FULL SET
Producto fuera de stock. Consultar en los próximos: días de entrega
Description:

Packing 16Kg of lift into a streamlined and tough double-shell wing required true innovation. Selecting materials that would stand up to the rigours of cave diving meant no compromises. Combining these demands into a sidemount system that was streamlined, infinitely adjustable and made our competitors systems irrelevant was a challenge XDEEP relished.

Stealth 2.0 Wing:

Streamlined to your anatomy:
One of sidemount divings' many advantages is the streamlined shape you have in the water. Anything that protrudes or dangles is a potential entanglement hazard, and a serious safety issue.

The STEALTH 2.0 design achieves a streamlined system that stays in tune with your anatomy. Whatever position you are in and regardless of how much gas you have in the wing, the distance of the centre of the wing away from the body is minimal.

Perfectly position the wing:
Because the wing has its own independent five-point mounting system, you can place the wing exactly where it needs to be.

During the dive as you mount and demount cylinders, drop stages or clip off scooters the wing can be adjusted to maintain trim. For a real squeeze of a restriction, you can even remove it to completely minimise your profile.

Stealth 2.0 Harness:

The expression 'thinking outside the box' is often over used, but to revolutionise the sidemount system harness, that's exactly what we had to do. Analysing the many systems already on the market was a start. We soon realised that something new and groundbreaking, something that would perform brilliantly in the Yucutan Caves as well as open water, was needed.

The STEALTH 2.0 includes some revolutionary features. Using harness webbing of differing thickness and stiffness meant a better more comfortable fit. Building true anatomical structures into the harness enhanced the diving experience. Movable D rings on the waist strap to allow for changes in tank buoyancy and control of tank position were first seen on the STEALTH 2.0 and have been widely copied since.

Stealth 2.0 Weight System:

Imitation is the sincerest form of flattery which probably explains why the STEALTH 2.0 weight system is so often copied. Your weights can be configured exactly where you want them to ensure perfect balance and trim, regardless of whether you need one block or ten.

Incredibly flexible, capacity to cope with 1Kg to over 20Kg and designed to keep weights secure and immovable, it truly is a world class system.In the cave environment, especially in tight restrictions, the XDEEP is peerless.
Latest posts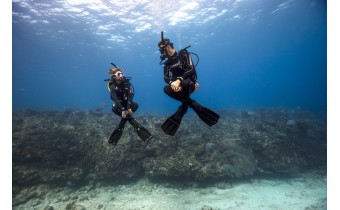 If you want to explore the mysteries of the underwater world and get your PADI...
Read More
View Blog