TKRB9907PULMONTRLAPD
BACK MOUNTED COUNTERLUNGS TYPE 1
Producto fuera de stock. Consultar en los próximos: días de entrega
Description:
The AP Back Mounted Counterlungs (BMCL) were introduced in 2012 as an option for all AP rebreathers as an alternative to the over-the-shoulder counterlungs which have been standard on all AP CCRs since 1997. They can either be fitted as an upgrade to existing AP rebreathers or specified when ordering any new AP unit
Why Back Mounted Counterlungs?
Clutter-free chest area
Stream-lined diver profile with reduced drag
More space available to clip on and retrieve extra items of kit
Easy to trim for horizontal attitude
Unique integral shoulder strap & harness design ensures the counterlung is fixed in the optimum position
Excellent breathing characteristics in all typical diving positions
CE Approved
The Back Mounted Counterlung design is the product of many years experience and development involving extensive manned and unmanned trials and testing. Our primary goal was to optimise the work-of-breathing performance of the lung
As a result, we believe we have now produced a unique back mounted counterlung - the best available and comparable to the renowned high performance of our existing over-the-shoulder design
The BMCL offers excellent breathing characteristics in all typical diving positions. Only lying on your back does the breathing effort become slightly more noticeable
Latest posts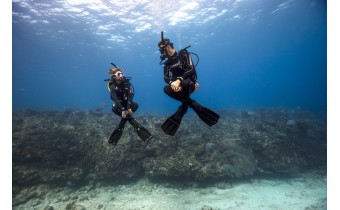 If you want to explore the mysteries of the underwater world and get your PADI...
Read More
View Blog