SC12252030R195
MK25 EVO G260 REGULATOR + R195 OCTOPUS
Producto fuera de stock. Consultar en los próximos: días de entrega
Data sheet
REGULATORS

REGULATOR

REGULATORS

OCTOPUS

FIRST STAGE

BALANCED

FEATURES

ADJUSTABLE 2ND STAGE

FATHER´S DAY

REGULATORS
Specific References
ean13

4048336299855
Description:

The G260 is a balanced, adjustable second stage featuring metal components for excellent cold-water resistance (inlet tube, orifice, inhalation control knob, and hose connector). Its high performance makes it a choice for all demanding divers and it will be the natural choice for G250 fans. The left-right hose attachment option makes it ideally suited for tech diving configurations.

The latest regulator innovation from SCUBAPRO is the patent-pending Extended Thermal Insulating System(XTIS), ushering in a new era of cold waterprotection for the industry. Available in EVO first stages, XTIS fully insulates the inner mechanical components for extra protection. With it, the cold-water protection rating for MK25 EVO surges another 30 percent.

Features:

MK25 EVO First Stage:


Air balanced flow-through piston
Cold water: XTIS, plus 30% resistance to freezing
Externally adjustable intermediate pressure
Low pressure ports: 5 on swivel turret
Tank connection: INT 230 bar / DIN 300 bar
Weight: : INT 230 825g / 29.1 - DIN 300 592g / 20.9oz
Air Flow at 200bar: >8500 l/min - 301 SCFM
Intermediate pressure: 9-9.8 bar / 130-142 psi

G260 Second Stage:


Premium technical 2nd stage
New covered hose swivel for total comfort and control
Diver's Adjustable inhalation effort
Metal components for excellent cold water resistance
Reversible Hose Attachment
Super Comfort High-flow mouthpiece

R195 Octopus:

The R195 is a new design based on the heritage of the classic R190 second stage, re-engineered with modern features and materials.

The R195 combines a classic downstream valve with a large diaphragm and classic purge button. Its simple and robust construction offers the utmost in reliability and makes the R195 the ideal second stage for new divers and a perfect choice for deco tanks thanks to its reversible hose attachment.

The octopus version combines the features of the R195 with a high visibility yellow cover and a 1 meter long yellow hose for easy sharing.
Latest posts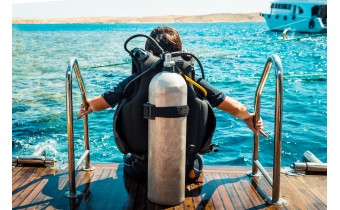 Discovering the treasures that the underwater depth hides and being able to observe...
Read More
View Blog