SC12803910
MK17 EVO C370 REGULATOR + OCTOPUS R095
Producto fuera de stock. Consultar en los próximos: días de entrega
Description:
This reg system combines SCUBAPRO's premium diaphragm first stage with its newest air-balanced second stage. The MK17 EVO is completely sealed off from the elements, ensuring trouble-free operation no matter how cold or murky the water gets. It is more compact yet delivers better breathing performance than its predecessor. Its improved internal design allows more airflow from the LP ports which have been reconfigured for better hose routing. The new C370 brings forth the best features of its predecessor, the C350, while adding a balanced valve to its design. Its new exhaust tee, based on the S620Ti's design, contributes to a 10% improvement in work of breathing over the C350. It's a smart reg system for all kinds of diving applications.
A BACKUP BREATHER THAT WON'T BUST YOUR BUDGET
This performance octo reg is about as simple as can be, yet delivers air reliably when needed.
Going down armed with a smooth-breathing backup reg doesn't have to be complicated, and it doesn't have to be expensive. The R095 OCTO is proof of that.
The R095 is a new economical second stage featuring classic downstream valve technology that has a well-earned reputation for safety and reliability. Designed to be extremely easy to use in an emergency, the R095 is pre-tuned to the optimum inhalation volume for safe and uncomplicated use -- you never have to hassle with control knobs or switches; simply put it in your mouth and breathe.
The R095 OCTO combines all the features of the R095 with a high-visibility yellow purge cover and a 39-inch yellow hose that makes it that much easier to share with a buddy in need. For new divers as well as veterans looking for an economical backup breather that's simple, dependable and offers excellent visibility, the R095 OCTO is a great choice.
Specification:
FIRST STAGE
Air balanced diaphragm delivers constant and effortless airflow unaffected by depth, tank pressure, or breathing rate
Environmentally sealed system prevents water and pollutants from fouling the inner mechanism
Dry ambient pressure chamber increases freezing resistance, ensuring consistent airflow in the coldest conditions
Two high pressure and four high-flow ports maximise air delivery and hose routing options
External intermediate pressure adjustment enables technicians to fine-tune performance quickly and easily
Available in either 232bar INT or 300bar DIN configurations
DIN version comes with a dual-compound wheel that features an ergo shape and softgrip on a rugged black nylon frame
Weight INT 232: 860g; DIN 300: 640g
Airflow at 200bar: 6900 l/min
Intermediate pressure: 9.0-9.8 bar
SECOND STAGE
Air-balanced valve smoothes out the inhalation effort at varying depths and supply pressures
Compact rugged fiberglass reinforced nylon casing and new exhaust tee take up little space in a dive bag
Stainless steel frame on the front cover adds the SCUBAPRO C-Series signature
A new poppet and lever allows the design to maintain the same overall size as the C350
A new exhaust tee based on the S620 Ti's design contributes to better work of breathing (a 10% improvement over the C350)
User controls include a diver-adjustable inhalation effort knob and Venturi-Initiated Vacuum Assist (VIVA)
Large purge button is easy to activate, even wearing thick gloves.
Super-flow hose features an oversized bore that allows more air to flow on each inhalation
Compact Hi-Flow mouthpiece improves airflow as well as mouth comfort, fitting all mouth sizes, from smaller to largest
Weight: 171g.
Airflow at 200bar: 1600 l/min
R095 Octopus
Features a classic downstream valve for optimal breathing performance.
Preset inhalation and Venturi-Initiated Vacuum Assist (VIVA) provides hassle-free air delivery.
Metal valve housing is built rugged and increases overall reliability.
Yellow super-flow hose is 39 inches long and features and oversized bore to increase airflow.
Ultra-comfortable orthodontic mouthpiece is easy to grip yet doesn't inhibit airflow.
Weight (without mouthpiece): 5.0oz/141g.
Airflow at 2900psi (l/m/SCFM): 1400/50.
Latest posts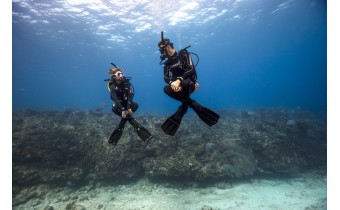 If you want to explore the mysteries of the underwater world and get your PADI...
Read More
View Blog