MA414124
PUCK PRO COMPUTER WHITE
Producto fuera de stock. Consultar en los próximos: días de entrega
Data sheet
COMPUTERS AND WATCHES

COMPUTERS

TYPE OF COMPUTER

CONVENTIONAL WRIST

GAS

NITROX

FEATURES

BATTERY CHANGE BY USER

FEATURES

AUDIBLE ALARM

FEATURES

DOWNLOADABLE LOG BOOK

FATHER´S DAY

DIVE COMPUTERS

CHECK YOUR LUGGAGE

COMPUTERS
Description:

The top-seller of the last four years emerges with a new look: The smaller case and bigger display are apparent at first glance. But the true greatness of this cost-benefit champ is hidden from view!

"Everything a dive computer needs – no more and no less", that's the motto of the Mares research and development department for the new high achiever among affordable dive computers. Its predecessor already exceeded the needs of demanding divers: intuitive user guidance at the push of a button (Puck only needs a single button!), the proven and scientifically acclaimed RGBM Mares-Wienke program with "deep stops", three modes – "Air", "Nitrox", and "Bottom Timer", a high-resolution, high-contrast display with optional backlight and fantastic readability at an angle of up to 70°, and last but not least: enough energy using an off-the-shelf lithium battery that is user-replaceable.




The new Puck Pro sets new standards in its category: The case is a lot smaller, almost as small as a watch, but the display is enlarged (as compared to its predecessor), and the provided information is structured even more clearly. This was made possible by moving the button from the top to the bottom, which results in an unobstructed view of the circular display. A positive side effect: Operating the button has a nice anatomical feel to it. You'll get more value for the money as well: Puck Pro can also calculate a gas change of up to 100% oxygen. To prevent "premature aging", it can now be updated and via USB interface (optional) be integrated into the complete Dive Organizer (PC) or Divers Diary (Mac) family. Long live your digital logbook and "just add water" for Puck Pro!

Characteristics:

* Slim design for a perfect fit

* Large display for superior readability

* Intuitive user interface

Mares Tech:

SEGMENT DISPLAY: Needle-sharp information combined and intelligent placement of information for easiest readability..

GAS SWITCHING: Set up to three nitrox mixes and take full advantage of decompressing with high oxygen concentration mixes.

SOFTWARE UPGRADEABILITY: Keep the computer up to date with the latest Mares developments

ONE BUTTON CONTROL: Full-featured computer in which all functions can be accessed through an intelligent and intuitive logic with a single button.

MINERAL GLASS DISPLAY: (Tempered) Superior scratch resistance and improved readability in all diving conditions and viewing angles.

Aditional Pics:


Latest posts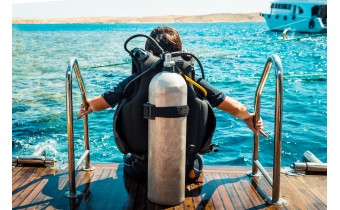 Discovering the treasures that the underwater depth hides and being able to observe...
Read More
View Blog