BRGMORPACKMK2IG
DESCENT™ Mk2i COMPUTER TITANIUM GREY DLC BLACK STRAP + T1 TRASMITTER
Producto fuera de stock. Consultar en los próximos: días de entrega
Data sheet
COMPUTERS AND WATCHES

COMPUTERS

TYPE OF COMPUTER

WRIST WATCH

GAS

NITROX

GAS

REBREATHER

GAS

TRIMIX

FEATURES

AIR MANAGEMENT

FEATURES

DOWNLOADABLE LOG BOOK

FEATURES

DIGITAL COMPASS

FEATURES

AUDIBLE ALARM

FEATURES

FREE DIVING MODE

MOTHER´S DAY

DIVE COMPUTERS
Illustrative detail pictures, model with rubber strap
Description:
The dive computer for your two worlds.
Track depth and gases with the advanced watch-style dive computer that includes multisport training and smart features.
Dive computer with air management for you and your dive buddies. Choose from multiple dive modes for your underwater adventure. Measure your performance and track your stats in the water. This smart dive computer includes Garmin Pay™, music and notifications. Share and review dives on the Garmin Dive™ app. The battery life of your Garmin device simply can't compare to other smartwatches.
QUALITY THROUGH DESIGN
This advanced watch-style dive computer has a rugged yet sophisticated design and features a large, sunlight-readable 1.4-inch color display.
PREMIUM MATERIALS
Tailor the look to your lifestyle with a sleek titanium bezel.
AIR MANAGEMENT
Performs linkage with the Descent T1 transmitter for integrated pressure monitoring of up to 5 tanks via the SubWave™ probe data network.
SUBWAVE PROBE
Transmits data, such as remaining air time, air consumption rate and more, to you and other divers within a 10 meter range.
DIVE MODES
Enjoy multiple dive modes for dives with single or multiple gas mixes (including Nitrox and Trimix), Gauge, Free, Free Catch and closed-circuit rebreather.
CUSTOMIZABLE DIVE MODES
Add additional displays for each dive mode to include the fields you want to see.
MULTIPLE SURFACE GNSS SYSTEMS
Track your entry and exit points2 with advanced satellite connectivity.
DIVE LOG
Store and review data from up to 200 dives and share it through the Garmin Dive app.
INREACH® COMPATIBLE
Pair with inReach3 satellite communication devices and the inReach waterproof case.
PERFORMANCE METRICS
View advanced training metrics including running dynamics, VO2 max that adjusts for heat and altitude, recovery monitoring and more.
PACEPRO™ TECHNOLOGY
The innovative feature that helps you keep the right pace with tailored guidance for the incline of your ride.
SPORT APPS.
Use pre-installed activity profiles for trail running, swimming, running, cycling, hiking, rowing, skiing, golf and more.
ANIMATED TRAINING SESSIONS
Follow along with animated workouts, including strength training, cardio, yoga and Pilates. Watch the workouts directly on the watch display.
TOPOACTIVE MAPS OF EUROPE AND SKI MAPS
Use TopoActive maps of Europe to navigate your next adventure and view the piste names and difficulty ratings for 2000 ski resorts around the world.
ABC SURFACE SENSORS
Use ABC sensors on your next run, including an altimeter for altitude data, a barometer to monitor weather changes and a three-axis compass.
WRIST-BASED HEART RATE SENSOR
Optical heart rate technology5 measures activity intensity as well as heart rate variability to calculate your stress level. It also works underwater without the need for a heart rate strap.
PULSIOXIMETER
For altitude acclimatization, sleep monitoring or between freediving or surface capture activities, a pulse oximeter4 uses light beams on the wrist to calculate the degree to which your body absorbs oxygen.
BREATHING THROUGHOUT THE DAY
Tracks how you breathe throughout the day, while you sleep and while doing breathing techniques and activities such as yoga.
TURN-BY-TURN NAVIGATION
Follow a route or path with the help of turn-by-turn directions that let you know ahead of time when the next turn is coming up.
ROUND-TRIP ROUTES
Enter the distance you want to travel and get route suggestions that will take you back to the starting point. The Trendline™ popular road routing option helps you discover the best local routes.
SAFETY AND TRACKING FEATURES
If you fear for your safety or see signs of an accident, the assistance and incident detection functions6 will send your location to emergency services. Not available in dive mode.
MUSIC
Store up to 2000 songs or access music streaming apps from your compatible services7, including Spotify®, Deezer and Amazon Music.
CONTACTLESS PAYMENTS WITH GARMIN PAY™.
Seamlessly checkout with Garmin Pay8 contactless payment solution through participating providers.
SMART NOTIFICATIONS
Receive emails, text messages and alerts directly to your wrist when paired with a compatible device.
CONNECT IQ™ STORE
Download custom watch faces, add data fields and get apps and widgets from the Connect IQ store.
Included in the box:
Descent Mk2i, gray DLC with black strap.
Extra-long black adjustment strap
Charging/data cable
Documentation
Latest posts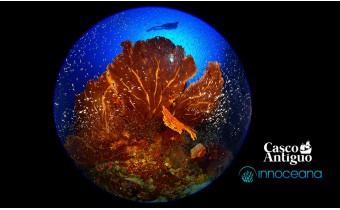 As you know, in Casco Antiguo we are deeply concerned with the preservation of...
Read More
View Blog