SC05047100
ALADIN H MATRIX COMPUTER
Producto fuera de stock. Consultar en los próximos: días de entrega
Data sheet
COMPUTERS AND WATCHES

COMPUTERS

TYPE OF COMPUTER

CONSOLE

GAS

NITROX

FEATURES

BATTERY CHANGE BY USER

FEATURES

AUDIBLE ALARM

FEATURES

DOWNLOADABLE LOG BOOK

FEATURES

DIGITAL COMPASS

FEATURES

AIR MANAGEMENT

FATHER´S DAY

DIVE COMPUTERS
Description:
With its compact size and intuitive data display, the new Aladin H (Matrix) is a sharp-looking and full-featured dive computer targeted to avid recreational divers looking for a convenient air-integrated dive computer.
Featuring a metallic faceplate and easy-to-read segmented display on top and middle rows, and a matrix display on the bottom row, the Aladin H's full air integration eliminates the need to carry a separate submersible pressure gauge. With the on-board digital compass you have an ultra-compact, full-function, hose-attached dive computer.
Dive logs can be stored and analyzed with a PC/Mac via new Bluetooth® wireless technology..
Technical Information:
Predictive Multi-Gas ZHL16 ADT MB algorithm accommodates three gases (21-100% O2).
Fully air-integrated, the algorithm calculates remaining bottom time (RBT) and estimates workload based on breathing rate.
PDIS (Profile Dependent Intermediate Stops) calculates an intermediate stop based on N2 loading, current and previous dives and breathing mixes for safer diving.
Microbubble levels let you adjust the level of conservatism in the algorithm to match your experience level, age and physical conditioning.
Protector boot covers a quick-release fitting that enables you to separate the dive computer from the HP hose for easy post-dive data downloading, traveling, and safe storage.
Plus:
Two Dive modes: Scuba, Gauge.
Maximum operating depth: 394ft/120m.
Altimetro.
Digital compass, displayed on matrix bottom row.
Active back light.
Visual and audible alarms.
Adjustable pp02 from 1.0 and 1.6, and it can be set to Off.
Bookmark function.
Lens protection cap.
CR2450 user-replaceable battery rated for two years/300 dives.
Dive logs can be stored and analyzed via new Bluetooth 4.0 technology.Using the Bluetooth Low Energy (Bluetooth 4.0) feature divers can download their dives to iOS and Android devices that handle the Bluetooth Low Energy technology.For PCs and Macs that are not equipped with built-in Bluetooth Low Energy technology, the end user will have to buy a Bluetooth Low Energy USB dongle which is available on the market.Uwatec has tested and recommends the use of the following dongle: Bluegiga BLED112.
Latest posts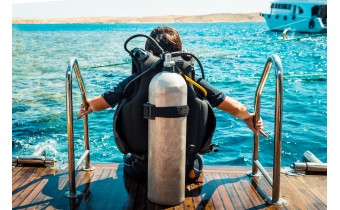 Discovering the treasures that the underwater depth hides and being able to observe...
Read More
View Blog