SC05014110
DIGITAL DEPTH GAUGE 330 M
Producto fuera de stock. Consultar en los próximos: días de entrega
Data sheet
COMPUTERS AND WATCHES

COMPUTERS

TYPE OF COMPUTER

CONVENTIONAL WRIST

TYPE OF COMPUTER

TECHNICAL

TYPE OF COMPUTER

CONSOLE

SUMMER SALES

CONTROL GAUGES
Description:
An original 'one-of-a-kind' digital depth gauge. It integrates basic dive information into a highly accurate and accessible electronic instrument, imperative for all diving levels. The Digital 330m, recently launched in 2007, is the perfect evolution of the classic Digital Depth Gauge, which was introduced by UWATEC in 1989. Targeted for technical divers, but also ideal for beginners or as a back up instrument whatever your level, the Digital 330m offers precise accuracy in all diving conditions.
Characteristics:
* 330m Certified Depth Gauge and depth accuracy 0.1% ±0.1 m
* 999 hours 59 minutes maximum diplayed Dive Time
* Ascent rate display in Meters Per Minute and fast ascent visual warning; variable ascent rate (7-20 m/min) for safer diving.
* Average Depth display during dive alternates with temperature.
*Temperature display resolution & accuracy in full one degree increment (±1 °C); -10 °C to +50 °C operating temperature range.
* Log book gives access to most recent 19 dives
* More efficient, consumes less power than previous Digital. Long battery life for over one thousand 1-hour dives.
* Unlimited altitude range accounting for variations in atmospheric pressure
* Quartz clock time measurement
* Upgraded graphics on our ultra visible display
Latest posts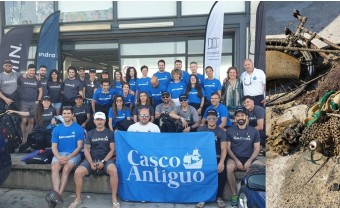 As part of its commitment to the care and respect for the sea, Casco Antiguo has...
Read More
View Blog