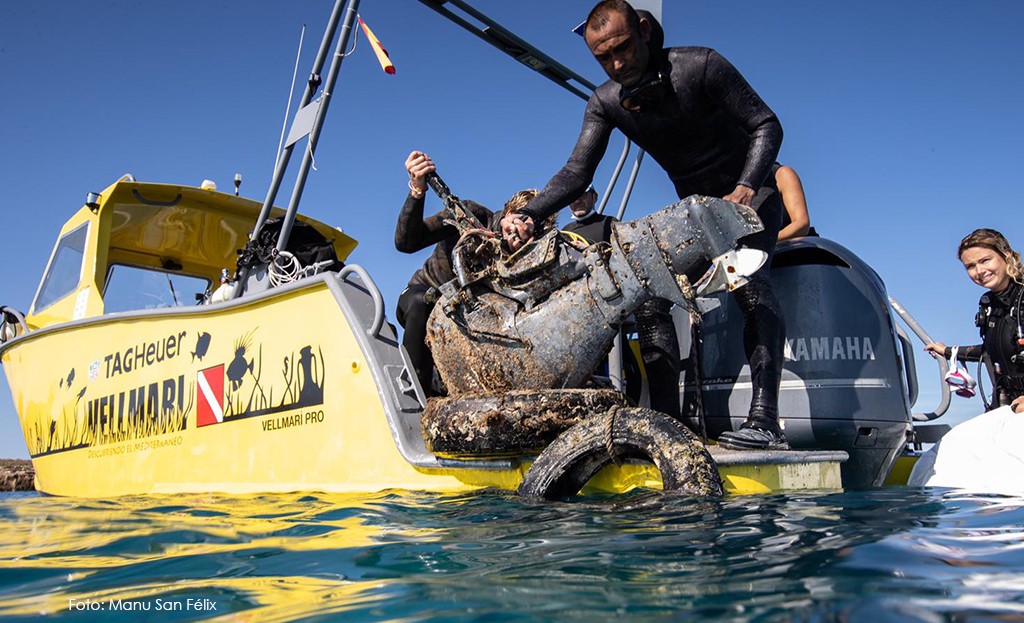 Environment Week in Formentera.
We are facing a historic moment in terms of awareness regarding the care for our planet and, little by little, the organization of campaigns to clean up our seas and rivers are spreading.

Of course, Formentera could not be left behind. Formentera evokes incredible landscapes, a sense of relaxation and freedom, the summer in capital letters... and, of course, a paradise for divers. But if it wasn't for the Mediterranean Sea, the protagonist of its beaches, coves and sunsets, it wouldn't be the same. If we don't protect the sea, this treasure will disappear.

As you know from other posts, every time an initiative like this is arranged, we are happy to participate. So Casco Antiguo could not miss this 1st Diving Week in Formentera and do out bit. But weren't alone, the initiative also counted with the help of INDRA Company (@indracompany @changefromthecoreindra), and their corporate volunteering initiatives. Of course, none of this would have been possible without the collaboration of @tdsdive @nanablascol @fishtankbottles @Buceo_por_el_ambiente and the association @vellmari_formentera.
 
And what did it consist of? A total of 14 volunteers participated, and we did 8 dives with a series of conservation objectives. @manusanfelix was in charge to determine the areas that needed our help. For those of you who don't know him, he is a marine biologist, expert diver and underwater explorer and photographer from National Geographic. Before each dive he gave conservation briefings and told us about his projects for the Protection of the Mediterranean Sea, thus helping us to work on these initiatives in a safe and efficient manner. Of course, he joined us on each dive afterwards.
 
The result of the dives was impressive: we removed Nauts (dead gorgonie) from the Posidonia prairies, brought to the surface fishing nets that was abandoned on spectacular seabeds, and even a sunken ship with its engine! But being in Formentera, not everything was going to be work. We enjoyed beautiful dives with schools of Mediterranean barracudas, saw tuna hunting, countless octopuses, gorgonie and thousands of Posidonia flowers. Yes, that's right, flowers under the sea.  Posidonia are plants that form huge underwater meadows, a refuge and breeding ground for hundreds of species.
 
In short, incredible days, a fascinating sea and... also a slight bitter aftertaste. Unfortunately, the Mediterranean Sea is at a critical point due to over-exploitation and global warming, and with these initiatives we all become a little bit more aware of the problem. Manu San Félix transported us to the Mediterranean Sea of a few decades ago, where the Mediterranean monk seal lived. You could dive next to monk seals, and you needed to take precautions because you could meet a shark. These, and many other species, have disappeared from our sea, and the Posidonia prairies and corals are at a critical point, so we must act now!
 
With the help of this project and, hopefully, many others, we must fight to protect the Mare Nostrum which, unfortunately, is being destroyed at an alarming rate.