SBBT170PKCE
SPARE AIR MINI (CE Marked)
Producto fuera de stock. Consultar en los próximos: días de entrega
Data sheet
TANKS AND VALVES

ALUMINIUM

CAPACITY

OTHER

SUMMER SALES

TANKS

GIFTS

200-300 €
Description:
SPARE AIR Model 170 is the smallest portable air source in the world! A complete scuba system (regulator, tank and pressure indicator) that's the size of a coke can.
For European Customers, we now automatically provide CE Marked tanks. The CE mark is required for 5 year hydrostatic testing in European countries.
Features:
1.7 cubic feet of air
Tank finish in Neon Yellow for safety
Easily refills from your own SCUBA tank with included refill adapter (patent pending)
Easily attaches to your BC with included holster and safety leash
Small, hands-free, nearly neutrally buoyant
Breathe on demand regulator -No complicated instructions
Completely redundant back-up miniature SCUBA system
Faster than buddy breathing and easier than an octopus
Compact size allows for more versatile mounting options.
Size preferred by military agencies worldwide.
Original 1.7 cu ft is the "old faithful" of the SPARE AIR product line. In production since 1979- over 100,000 units in use.
Technical Features:
Maximum Capacity: 1.7 cu ft / 48 liters
Length: 8.75" / 22.23 cm
Diameter: 2.25" / 5.71 cm
Maximum Pressure: 3000 psi / 200 bar
Weight (full): 1.51 lb. / .687 kg
Surface Breaths*: 30
Water Volume: 13.8 cu in / .23 liters
*Based on 1.6 liters per breath
Latest posts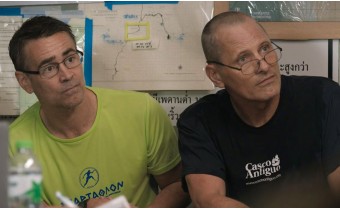 In today's post we would like to recommend our readers the new movie based on real...
Read More
View Blog