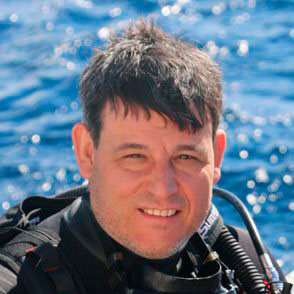 JOSÉ ANTONIO GUTIÉRREZ
(Director de Buceo Recreativo)
Jose Antonio is one of the first members of the Casco Antiguo team. , working in the world of scuba diving for more than 30 years.
As director of recreational diving deparment , José Antonio uses his experience to develop new products that thousands of divers will use later.
The curriculum of José Antonio as a diver begins in 1989 :
- Scuba Diver since 1989.
- FEDAS CMAS Instructor since 1993.
- His passion for scuba diving leads him around the world, visiting places like Australia , Maldives , the Red Sea , the Netherlands Antilles , Cuba , Mexico ...
- Casco Antiguo Worker since 1986.
- Dedicated to the development of our own brand Subacqua and the selection of products from other brands.
- Director of the Recreational Diving Line of Casco Antiguo.
---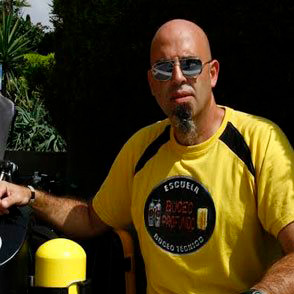 FELIPE AYUSO "PIPE"
(Director de Buceo Técnico)
Pipe started diving in 1989 as a 2 star FEDAS diver, today he has more than 5000 dives, most of them as technical diver.
He founded 'Buceo Profundo' technical diving school , specialized in training and guidance of rebreather divers and instructors, military units and rescue teams. He is currently Director of the Department of Technical Diving at Casco Antiguo, where he keeps searching and testing technical diving equipment, to meet the needs of the most exigent divers.
His work has led him to all around the world, to countries as Indonesia, Fiji, Red Sea, Maldives, Thailand, Chile, Mexico, Papua, Morocco, Philippines... His favorite destination, which has been visited several times in recent years, is Truk Lagoon (in the Pacific Ocean). This is the perfect place for a tek diver with more than 80 ships sunk during World War II.
He has different degrees, among them:
- Scuba Diver since 1989.
- Diving Instructor TDI, SDI, ITDA.
- Nitrox instructor, Decompression Procedures, Extended Range, Trimix normoxic and hypoxic, DPV, Intro to Cave and Full Cave.
- Inspiration, Evolution and Poseidon rebreather instructor.
- Trainer of several rescue, police and military units.
- Collaborating with the Greenwich Foundation for the discovery and study of wrecks on the coast of Alicante.
- Founder of 'Buceo Profundo' technical diving school.
---