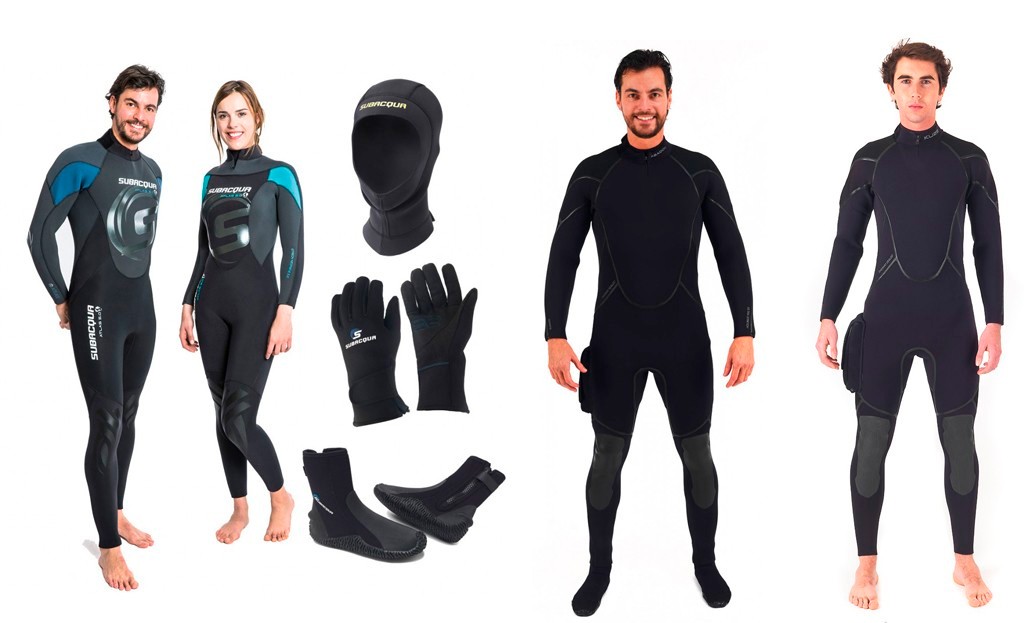 A SUIT FOR EVERY OCCASION
To begin with, you should know that wetsuits and onesuits are made of neoprene, a flexible material that hugs the body. It's like a first skin that helps you adapt to different temperature ranges. Therefore, it is very important to know where the suit will be used as well as the temperature of the water where we will be diving.
To explain it simply and help you make a decision, we will divide suits by temperature ranges.
Water temperatures below 18° C / A diving day in the Cantabrian Sea
For temperatures below 18° C, a drysuit is ideal. Drysuits are fully watertight, one-piece suits. They have latex or rubber seals on the neck, arm, and leg areas as well as a watertight zipper that prevents any water inlet. They can be made of 4 mm hyper-compressed neoprene, which makes them very flexible. There are also trilaminate suits, enabling for thicker underwear to be worn if the temperature is very low. Drysuits are equipped with filling and emptying air valves to isolate the body from the water. One more thing: a previous course to learn about the use of these suits is highly recommended.
Temperatures ranging from 18° C to 22° C / A weekend diving in Lanzarote
For temperatures between 18° C and 22° C, semi-dry suits are necessary. Like the previous ones, these are one-piece suits made of 6.5 mm neoprene. They have a watertight zipper and adjustable seals. They may have an inner lining, thermosealed seams, and include an attached or separate hood. These suits are ideal for good thermal protection. A funny thing is that the zipper is usually horizontal (not vertical, as we are used to). At first, it may seem uncomfortable, but it is very easy to get used to it, and these suits improve thermal protection tremendously.
Temperatures ranging from 22° C to 26° C / A getaway to the Mediterranean
For warmer water, wetsuits are the best option. They are made of neoprene and are 5 to 7 mm thick. In this case, the zipper is vertical and located on the back, offering maximum flexibility when swimming. They are especially recommended for the first time a wetsuit is used and, of course, for warm waters.
Temperatures ranging from 26° C to 29° C / Caribbean holidays
For very warm waters, we recommend wetsuits with a very thin neoprene layer: from 0.5 mm to 3 mm. These suits are very flexible and comfortable. In warm waters, either a long onesuit or Shorty onesuits can also be worn.
Of course, the list of suits does not end here. There are others like surfing suits, 2-piece suits, and suits for underwater fishing, freediving, or for professional works... but we'll go over those in another post. Meanwhile, check the range of onesuits and neoprene suits on our website for diving specialists:
Welcome to the International Oceanographic Station. It looks like science fiction, but it's not.  
The Cousteau family still has fun and exciting surprises to offer diving lovers. Fabien Cousteau, the grandson of Jacques Cousteau, follows in his grandfather's footsteps. He has been working for years on the promotion, care, and respect of the marine world. However, this time, he has gone one step (or five) further than his predecessor.  
In the midst of the global paralysis caused by the coronavirus, there is some hopeful news for the future, and Fabien Cousteau has made one of them public: taking the philosophy of the International Space Station to the seabeds, installing a station where research centers and universities from all over the world can live together underwater and carry out experiments and research. It seems incredible, but it is estimated that only 5% of the marine ecosystem has been explored, and the Fabien Cousteau Ocean Learning Center  project aims to change this situation.  
The station already has a name, Proteus, the god of sea in Greek mythology. It is located in the country of Curaçao, an autonomous territory of the Netherlands, south of the Antilles Sea, where it will be installed at a depth of 60 feet (about 18 meters, 3 atmospheres). The project's architect is Yves Béhar, an industrial designer, and his studio, fuseproject. The budget is $135 million. And most importantly... it has a date: it is expected to be operational in 2023.  
Prometeus will give a chance that was impossible until now: to live under the sea. Even the smallest detail of the underwater station project that has been presented has been considered. It will have four times the space of any previous project, a capacity for 12 people and, thanks to its spiral shape, enough room for private and common areas. It will have laboratories, a greenhouse, rooms, a nursing room... and even a live streaming studio! Its design, on two levels connected by ramp, is conceived to promote physical exercise. Common areas are distributed in a central space with a dining room, as well as socialization and work areas. It will be anchored to the ground by means of a structure with legs and will be supplied entirely with renewable energy. 
This is not the first time that Fabien Cousteau surprises us. Together with five scientists, he broke the record for staying underwater for 31 days at the Aquarius station, a small prototype of this project. They estimated that research carried out during those days would be equivalent to research carried out for 3 years on the mainland. If this is the case, advancements in seabed knowledge may be so incredible that we cannot even start to fathom them. Divers, the countdown has begun...